Joplin Police Blotter: Shooting occurred
August 10, 2010
UPDATE:
Late Tuesday afternoon the victim of this incident, Monica Young, came out of extensive surgery to repair injury's she received to both arms and her face. Young is listed in stable condition and is recovering at a Joplin Hospital. During the incident Young had put her arms up in a defensive posture when shot with a .357 caliber revolver, with the bullet traveling through both forearms then entering her face and exiting near her left ear. Young suffered massive head and arm injuries and the complete loss of her left eye.
Cebron Finley of Joplin is still being held in the Joplin City Jail. On Wednesday Investigators arrested Finely for Possession of a Controlled Substance and have presented those charges to the Jasper County Prosecutor's Office. While processing the crime scene on Tuesday at 1402 S. Wall, Investigators found crack cocaine in Finley's property. On today's date Investigator's with the Joplin Police Department arrested Finley for 1st Degree Domestic Assault and Armed Criminal Action for this incident on Tuesday morning. Paperwork is being presented to the Jasper County Prosecutor where formal charges are expected to be filed late today or Friday morning.
Officers of the Joplin Police Department were called to St. Johns Hospital today (Aug. 10, 2010) just before 5 a.m. in reference to a female suffering from wounds consistent with a gunshot. Officers determined that the shooting occurred at 1402 S. Wall, responded to that residence, and secured the crime scene. Investigators with the Joplin Police Department are continuing the investigation.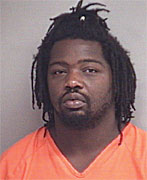 CEBRON C. FINLEY ARRESTED ON WARRANTS
The male subject that transported the female victim to the hospital has been taken into custody on unrelated charges of a felony warrant out of Oklahoma and six Joplin city Warrants. He is currently being held at the Joplin Police Department and being interviewed by JPD investigators.
The victim of this incident has been identified as Monica T Young, a 30-year-old female that lives at the address of the shooting. Arrested on the warrants was Cebron C. Finley, a 26-year-old male that lives at 1402 N. Long, Joplin.