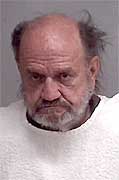 The Joplin Narcotic Unit served a search warrant at 1221 Iowa St, Joplin. The search on February 17, 2011, produced liquids, chemicals, glassware and precursors used in the manufacturing of methamphetamine.
An amount of methamphetamine was also recovered. Michael Faul,65, pictured, who resides at the residence was arrested.
Faul was booked at Joplin City Jail and paperwork will be submitted to the Jasper County Prosecutorís Office for filing of appropriate charges.