Joplin Police Blotter: First State Bank robbery
June 27, 2012
This morning at about 10:30 a.m., (June 27, 2012) Joplin police officers responded to the First State Bank branch located at 1651 W. 7th St. [just west of Maiden Lane] for a report of an armed robbery.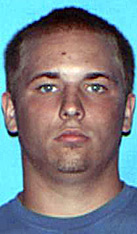 No one was injured in the robbery. The suspect, Johnny M. Patrom, pictured, escaped driving a black SUV. The SUV has been recovered.
Patrom is to be considered armed and dangerous. If anyone has any information on the suspect please contact the Joplin Police Department at (417) 623-3131 or your local law enforcement agency.