Joplin Police Blotter: Bullseye robbery
June 20, 2014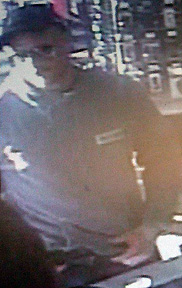 Officers with the Joplin Police Department responded to a report of a robbery at the Bullseye convenience store, 901 N. Florida Ave., Joplin. The robbery occurred around 7:19 p.m. on Thursday, June 19, 2014.
The suspect caught on camera entered the store and selected some items and brought them to the counter. He then told the clerk to give him all of the money. At this time the suspect displayed a handgun. He left with an undetermined amount of cash.
No shots were fired and no one was injured in this robbery.
The suspect is described as a white male, 6 foot to 6 foot, four inches tall and slender. He was wearing a dark ball cap, sunglasses, gray hoodie, and black pajama pants with red writing.
The suspect was last seen running across the parking lot. A K-9 track was started but the suspect was not located.
If anyone has any information on this crime please contact the Joplin Police Department at (417) 623-3131.