Just $15 helps promote an autism license plate
June 19, 2008
When Michelle McAdams' third child, Nick, was 15 months old, she knew something was "not quite right" in his development, but she couldn't put her finger on the problem. It was over a year later that Nick, then 28 months old, was diagnosed with a severe case of classic autism. As with many parents of children with autism, the McAdams' initially felt overwhelmed, isolated and alone. Truth be told, they were far from alone.
You have probably seen the prediction in 2007 from the Centers for Disease Control Prevention. One in every 150 children born in the US will be diagnosed somewhere on the autism spectrum. And boys suffer a worse fate, as the ratio is one in 94. Roughly 1.5 million Americans today are believed to have some form of autism.
According to the U.S. Department of Education and other agencies, this number will increase at the staggering rate of 10-17 percent per year. The Autism Society of America estimates that the prevalence of autism could reach 4 million Americans in the next decade!
Autism can affect any child anywhere. It is a neurodevelopmental disability that typically appears during the first three years of life and affects a person's ability to communicate and interact with others. The cause is unknown although links to reactions in immunization ingredients or extreme food allergies are being studied. Many doctors say there seems to be a strong hereditary component. Obviously, much research is necessary to put the pieces of this life-altering puzzle together.
When Michelle began actively seeking help for her son by whatever means possible--including the need to find an autism assistance service dog for their son--Mike Sciortino, the founder of Ethan and Friends for Autism, contacted Michelle. She accepted an invitation to become a member of the board of advisors. Ethan and Friends is a non-profit organization that is dedicated to raising funds for autism awareness, research and providing assistance for families of children with autism.
In renewing her license plates in 2005, Michelle decided to check to see if Missouri had an autism awareness plate. It didn't. She realized that this would be a great way to remind Missourians that autism awareness is important. She knew that other states had this type of special plate available and decided to find out what it would take to get an autism awareness plate approved for the Show-Me state.
Ethan and Friends for Autism was happy to sponsor Michelle's idea. What was necessary over the course of the next year entailed obtaining at least 200 signatures from people in support of the plate, designing the license plate itself and attempting to raise the $5,000.00 application fee. The last requirement necessary was to gain support for the autism awareness license plate from at least one state senator or representative, and that support was found in Senator Jason Crowell (R-Cape Girardeau). The application was ready to be put before the Joint Committee on Transportation Oversight.
Crowell officially announced on February 7, 2006 that approval of the autism awareness specialty license plate had been received. To get the plates in print and on our vehicles, Ethan and Friends for Autism needed to submit 200 completed applications requesting the plate along with the required fee of $15.00. Unfortunately, two years later, only 125 of the 200 applications necessary for the specialty plates to be put into production have been received.
Parents, teachers and therapists want us to know about autism. They want us to know how trying their lives can be. They want us to know how much they love their children. They want us to do what we can to help discover its cause. They need for us to reach out and help! We can help!
Maybe, your way of helping is by donating to organizations like Ethan and Friends for Autism. Maybe, your way of helping is by asking that person in Wal-Mart or at the restaurant whose child is having an apparent meltdown if they need help. Maybe, your way of helping is providing respite care for a parent who needs a well-deserved break. Maybe, your way of helping is by going to the license bureau nearest you and picking up Form 1716 and checking the box marked "other" and writing in "Autism Awareness" in the space provided. And you may also choose to personalize your plate on Form 1716 at no additional cost. Make out your check or money order in the amount of $15.00 to the Department of Revenue (DOR) and mail it to: Ethan and Friends for Autism, 232 Camellia Dr., Cape Girardeau, MO 63703.
If you just can't find time to get to the DOR yourself, send an e-mail to anyone here requesting Form 1716. Help the group reach the goal of just 200 applicants. You can help. It's that easy.
Commentary by Charelle Wilson,
Auxvasse, MO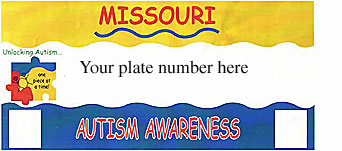 Help establish this colorful plate and promote autism awareness. Mail a check or money order for $15 payable to the Department of Revenue (DOR) to: Ethan and Friends for Autism, 232 Camellia Dr., Cape Girardeau, MO 63703.