Cattle branding is deterrent to theft
November 18, 2005
The recent increase of cattle thefts in Barry, Christian and Stone counties has caused cattle producers to ask questions about branding cattle and the Missouri brand law.
Eldon Cole, livestock specialist for University Missouri Extension, says branding is probably as good a deterrent to rustlers as locked gates and neighborhood watches.
"Missouri has a brand law and about 5,000 brands have been recorded. But really, that's just a drop-in-the-bucket when you consider there's over 60,000 beef operations statewide," said Cole.
Legislation passed in 1971 established the modern Missouri version of the brand law. Originally, branding was advocated to help reduce theft of cattle and horses. Branding still helps deter cattle theft but purebred breeders and others are also using the brand as a trademark according to Cole.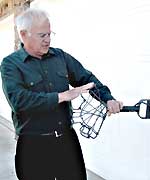 Dr. Richard Betz, a rancher from Neosho, demonstrates the use of a branding iron that he uses to document his bulls. Betz called attention to the benefits of a brand over tagging the ear of an animal even though seering the animal's hide slightly diminishes the animal's market price.
Branding is the only legal identification method that will stand up in court. However, the brand must be legally recorded with the Missouri Department of Agriculture - Division of Animal Health in Jefferson City at a cost of $35. Brands can either be hot or freeze brands and must be at least three inches in height and two characters or more.
"The design of the brand must be unique so it can't be duplicated on other farms. The same brand may be used but placed in a different position on the animal and still be legal," said Cole.
The brand, if clearly legible, does seem to make thieves to think twice about stealing those animals.
"According to the state law, slaughter houses and markets that receive branded animals must keep a record of the number of animals received, date received and the name and address of the seller, along with a copy of the brand, for at least two years," said Cole.
Branding does require a bit of skill and a reasonable brand design according to Cole.
He also recommends the use of an electric iron as the temperature is more uniform and should give a more readable brand than a fire brand.
"Freeze brands tend to be more time-consuming to apply and many of them lack clarity, especially on light colored animals," said Cole.
If you want more information on Missouri's branding law, or if you want to look through the brand registration book, contact one of the University of Missouri Extension livestock specialists in southwest Missouri: Eldon Cole at (417) 466-3102, Gary Naylor at (417) 345-7551, and Dona Funk at (417) 276-3313. Each county recorder should also have a copy of the brand book.