Be on the look-out for the spotted knapweed
May 09, 2007
Spotted knapweed, a weed that produces a toxin via the roots that kills plants within its root zone, has been showing up in the Ozarks with the potential to be a major problem by displacing native vegetation meant for wildlife and livestock. As a result, according to Tim Schnakenberg, an agronomy specialist with the University of Missouri Extension, his department hopes to keep tabs on its progress by using global positioning system (GPS) units to map the locations of spotted knapweed in the region.
"If farmer's suspect spotted knapweed has begun to invade agricultural land, we would like to know about it so we can more closely monitor the problem. A major infestation of spotted knapweed is a real threat and we hope to track it and educate people about it before it gets out of hand," said Schnakenberg.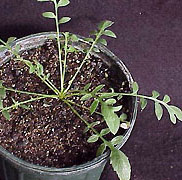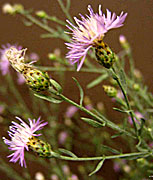 At left, view of the rosette stage of the spotted knapweed
At right, its flowering stage showing the black-tipped flower bracts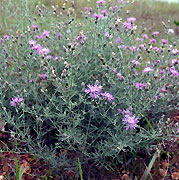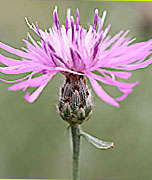 At left, spotted knapweed from a distance
At right, a close-up of the noxious weed that may be invading Ozark pastures


Spotted knapweed is a short-lived perennial plant that grows 2-4 feet tall. It forms a rosette the first year and then sends up a flower stalk the second year. The leaves, which are rather sparse on a hard and woody stem, have a pale green color. The weed blooms in mid-summer and the blooms are pink to purple in color and rather attractive. The weed reproduces solely by seeds and is a prolific seed producer with 1000 or more seeds per plant.
Spotted knapweed was first noticed in the Ozarks about five years ago. It is believed to have been brought in with straw or hay that was used to mulch construction sites and highway right-of-ways where utilities were installed.
"The weed has been found along Highway C north of Seymour, along Highway 60 east of Seymour, along Highway A between Marshfield and Highway 60, and along the railroad right-of-way through Marshfield," said Bob Schultheis, natural resource engineering specialist with University of Missouri Extension in Marshfield.
A weed identification guide provided by the University of Missouri may be found here.