Selecting conifers for the Ozarks garden
August 01, 2012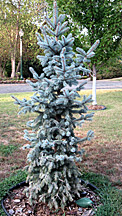 Death knell to Colorado blue spruce in the Ozarks?
Conifers are a lovely part of the landscape and provide year-round interest. However, it is important to select the types of conifers you plant with great care according to Patrick Byers, a horticulture specialist with University of Missouri Extension.
"The most important criteria when selecting an evergreen tree is its resistance to diseases and its adaptation to Missouri, especially hot and dry summers and cold, windy winters," said Byers.
Byers says his favorite picks for Missouri are as follows: Bald cypress (deciduous conifer), Eastern white pine (beautiful soft foliage) and Norway spruce (adapted to Ozarks climate).
There are also several conifers to avoid planting in the Ozarks.
The Austrian pine is susceptible to tip blight and needle blight. "You can spray, but usually this is a job for an arborist and tree doesn't look that attractive," said Byers.
The Scotch pine is susceptible to pine wilt nematode and that is a fatal disease.
The Colorado blue spruce grows up fast, lives hard, and dies young because it is not adapted to growing conditions in the Ozarks.