My Clinic opens in Joplin
March 17, 2004
Joplin - Southwest Missouri Congressman Roy Blunt welcomed the addition of Joplin's first federally qualified health center (FQHC) to serve the needs of the area's low-income patients.
"Federally qualified health centers are the largest health care delivery system in the United States. More than 14 million Americans each year receive their primary health care at facilities like this one," Blunt said. "My Clinic is a new community asset that will give low-income patients an opportunity to receive affordable primary health care services in a doctor's office, rather than in a more expensive emergency setting."
My Clinic, located at 2700 South McClelland in Joplin, opened in late February, as the third office of the Ozark Tri-County Health Care Consortium based in Anderson, Missouri. "My Clinic targets individuals with incomes at or below 200 percent of the federal poverty guidelines. A sliding scale is used based on family income and size to determine the dollar amount due for services," according to executive director Chris Cassell. "Individuals with Medicaid will be our largest user group. Approximately 6,500 people are expected to take advantage of the clinic once the program is fully operating."
Preventive and acute primary care, along with diagnostic services that include lab work and x-rays, are available at the new clinic with dental services planned within two years. A federal Department of Health and Human Services grant announced last fall made the expansion of the FQHC into Joplin possible.
There are more than 700 FQHCs with more than 4,000 health center delivery sites in the United States. The President's Health Center Initiative is a five-year $2.2 billion plan aimed at building 1,200 new health center delivery sites to accommodate 6 million new patients. FQHCs are a proven, cost-effective way to deliver health care to underserved and uninsured patients. Southwest Missouri has two FQHCs operating health care facilities in Springfield, Anderson, Cassville, Neosho and now in Joplin. In addition to the Ozark Tri-County Health Care Consortium, The Northeast Missouri Health Council, Inc., (a not-for-profit corporation), headquartered in Kirksville, is one of over 900 Federally Qualified Community Health Centers which provides healthcare to over 10 million patients through a network of some 2,500 clinics in the United States.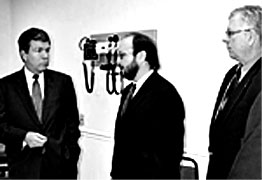 Congressman Roy Blunt (left) extends his best wishes to Chris Cassels, executive director of the Ozark Tri-County Health Care Consortium. To his right is Fred Shuster, Health & Human Services Regional Administrator.