Congressman Blunt's competition honors artists
May 11, 2004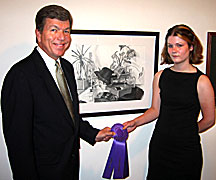 Congressman Roy Blunt poses with Christy Mustari and her artwork.
Springfield, MO - Christy Mustari, a junior at Nixa High School, took top honors in the Eighth Annual 7th Congressional District High School Art Competition held at the Springfield Art Museum on May 7. Mustari's pencil sketch, Without Words was judged as the best of 16 works submitted to a team of art faculty members from 5 Southwest Missouri colleges and universities who anonymously scored the art. It is the second consecutive year that a student from Nixa High, under the tutelage of art teacher Julie Brady, has been judged the best in the annual competition.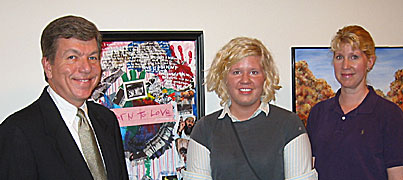 Congressman Blunt is pictured with student artist Megan Whited of Joplin High School and her mother Linda Strachman of Joplin. Whited's work was an acrylic water color entitled, Learn to Love.
"These are exceptional works of art from exceptional students that seem to get better every year," Congressman Blunt said. "These students are guided by the commitment and inspiration of the Southwest's best art instructors. I'm always amazed at the level of artistic achievement our Southwest Missouri high school students produce," Blunt told a crowd of students, art teachers and parents.
L-R are Jackie Nichols (sister), Congressman Blunt, student artist Jodie Nichols, mother and art teacher Tracey Nichols, and Roger Nichols (father). Jodie Nichols from College Heights Christian School had entered a pencil sketch, Self Portrait--My First Perm
Judges awarded honorable mentions to art students from Ash Grove and Aurora High Schools. Ash Grove High School senior Mindy Farmer's tempera painting, The Dreaming Ancestor, will hang in Congressman Blunt's Springfield Constituent Service Center for the next year. Parker Asay, a senior at Aurora High School, also received honorable mention for his pencil sketch, The Ocean. His artwork will hang in Blunt's Joplin office in the Northpark Mall.