Rep. Blunt backs Bush in nomination of Miers
October 03, 2005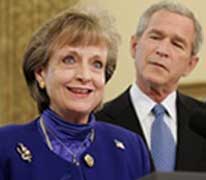 White House Counsel Harriet Miers is shown after being nominated by President George W. Bush (at right) as Supreme Court Justice during an announcement at the Oval Office on Monday, Oct. 3, 2005. (White House photo by Paul Morse)
WASHINGTON---House Majority Whip Roy Blunt (R-MO) today praised President Bush's nomination of Harriet Miers to fill the Supreme Court seat of Justice Sandra Day O'Connor.
"Harriet Miers has an impressive record of service to the nation who will bring practical experience to the bench," Blunt said.
"Miers has a record of accomplishment, having served as the first president of a large Dallas law firm and the first woman elected president of the state bar," Blunt concluded, " I look forward to a swift and deliberate confirmation process by the Senate."
---
Editor's note: Harriet Ellan Miers was Bush's personal lawyer in Texas when he was governor and in 2001 came along with him to the White House serving as staff secretary. Never a judge, she was a former president of Locke, Purnell, Rain & Harrell when they gave large donations to Bush campaigns. The law firm is a major backer of tort reform, representing corporate giants such as Microsoft and the Walt Disney Co. Miers was also chair of the Texas state lottery commission from 1995 to 2000 when GTECH, the company running the lottery, was accused of bribery. Miers, 60, is single and keeps close to her family who live in Dallas where she was born.
For a release from the Oval Office, click here.