Sidewalk chalking event to mark horrors of war
March 21, 2008
Just having the solemn events of the anniversary of the fifth year of war held by thousands of peace groups nationwide we very much regret that it is almost time to mark another solemn event. We are now getting closer to an upsetting event that is coming straight at us and will likely occur within the next very few days.
We know the numbers are under reported by using little tricks and deceptive methods by the military at the orders of authoritarians far from the battlefield, but in keeping with their figures currently they report 3,992 KIA soldiers have died, young men and women who have made the ultimate sacrifice in the immoral war that we know was contrived for the sake of profit and oil. Within the next few days the 4,000 KIA mark likely will be broached.
The "modern" military seems to want to use different language now. They call it "Fatalities by Hostile Action," but I still use the term from back in my time, the acronym KIA, meaning "Killed In Action." In my mind a Fatality by Hostile Action is just a bit too vague. I think Killed In Action explains more succinctly the cause and effect of what has happened to a young man or young woman, and the consequences to his or her poor family.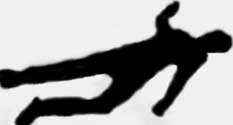 The Amnesty International Chapter at Missouri State University, Springfield consists of a group of very bright, caring and concerned, peace minded, young people who with their friends will be chalking 4,000 bodies on the sidewalks at MSU when the 4,000th KIA number is announced. Are you able to imagine what a large project that they are undertaking--how much energy it will take, how much space, and in how many directions on campus 4,000 bodies will extend? And how many pieces of chalk they need contributed?
They also need volunteers for the project that will begin on the first dry weekend immediately following the announcement of the 4,000th casualty. They plan to hand out fliers to traffic around the campus to justify their project and to inform the public of the need to encourage an end to the war.
Anyone who wants to be involved in this tremendous project should not hesitate to volunteer by sending an e-mail here
I am going to go buy a pair of knee pads, the kind I have seen men in construction use, and I am going to chalk as much as I can, in spite of the surgical insert in my knee from Asia from a long time ago.
4,000 bodies chalked on the sidewalk!!! Can you imagine how many blocks that might go out from the center of the campus? That is the aerial photograph I want to see.
Commentary by Dave Davison, president of Peace Network of the Ozarks