Emma Frogge joins United Way
March 28, 2016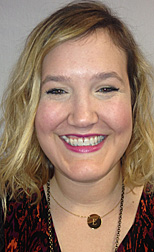 Local resident Emma Frogge, pictured, has joined the United Way as the director of Success by 6. She brings experience fundraising and networking in the Joplin business community along with a master's in licensed professional counseling that she attained in 2012 from Stephen's College.
"We are pleased to have someone with Emma's skills and experience join our organization. Her combination of experience and expertise made her a natural fit," said Duane Dreiling, executive director of the United Way.
United Way across the nation implemented the initiative known as Success by 6® in order to focus more toward community impact on the first years of a child's life, 0-6, the most important years for building a strong foundation for future success in school and in life. Frogge will continue implementing several programs, including the Lend and Learn Toy Library, Mobile Toy Library, Little Blue Bookshelf Project, Community Reading Nights, Born Learning Trails, and Dolly Parton Imagination Library.
"We all want our children to succeed in life," Dreiling explained. "The foundation for that success starts at birth. A child's experiences from birth through age 6 have a profound and lifelong impact. This is when 90% of the brain's growth occurs and children develop emotional and social attachments, as well as language and motor skills. The people who have the most influence in building this strong foundation are parents and other caregivers with whom the child spends the most time. The loving care, positive learning experiences and supportive environments they provide make a child feel secure and safe - all extremely important in nurturing a child's brain growth and development."
Frogge is not a stranger to non-profits.While living in Columbia, Missouri she was the Burrell Behavioral Health community support supervisor and the program director for transitional housing for the St. Raymond's Society. After returning home, She joined the choir at St. Paul's United Methodist Church and currently is training for the Joplin Memorial Run half marathon. She also enjoys singing, reading and traveling.
"I am excited to begin working as Success by 6 director. I have experience working with children and look forward to working with children in this role. I enjoy networking and look forward to meeting professionals in the communities of Southwest Missouri and Southeast Kansas," Frogge, who was the former executive director of Art feeds Joplin, said.