Lewis becomes scouting museum curator
October 21, 2012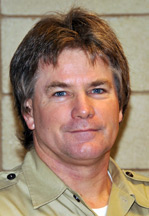 Russ Lewis, pictured, has been appointed curator of The Dr. Michael J. Clarke Museum of Ozarks Scouting, according to an announcement by Dr. Clarke. Lewis had formerly served as a cabinet member.
Lewis replaces Ozark Trails historian Steve Paris who had to resign due to health reasons. Paris had served as curator since the museum was organized in June 2002.
The only Boy Scout museum in Missouri, The Dr. Michael J. Clark Museum is located in the Clarence & Edna Wheeler Scout Service Center, 1616 S. Eastgate Ave., Springfield. Their large collection is rotated quarterly with the exception of material related to the original boy scout band that considered the council "home" from 1926-47. Hours are Mondays-Fridays, 9 a.m. to 5 p.m. and Saturdays, 10 a.m. to 5 p.m. Call to confirm at (417) 883-1636. Free admission.