Hunters to be affected by proposed changes
November 28, 2008
---

Sportsman ALERT
by Missouri Rep. Ed Emery (R-126 including the counties of
Barton, Dade, Jasper and Polk)

"With the power given to government agencies to establish regulations, sometimes it seems we have created a fourth branch of government. The regulations government agencies and departments are allowed to establish, interpret, and modify without oversight or approval can have a tremendous impact on everyday citizens." --Representative Bob Nance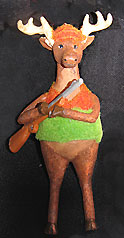 The Missouri Conservation Department was making news just days before the start of the 2008 Firearms Deer season. Over this past summer, the Conservation Commission approved some significant changes that will go into effect on July 1, 2009. Some of the changes are off the mark.
The change making the most waves is the one that will change a practice that has been in place since the mid-1980s that allows residents who own five acres of land or more to obtain free deer and turkey tags. The land requirement for free permits will be increased to 80 contiguous acres. This change affects more than 75,000 landowners. Additional changes include two to three dollar increases for the majority of hunting and fishing permits and creation of a senior "Forever" permit for citizens 60 years of age or older.
Here is a summary of expected rule changes:
Establish a 50-percent discounted price for resident and nonresident youth on deer, turkey and trout permits
Eliminate the youth deer and turkey hunting permit and the youth antlerless permit
Set a minimum age of 6 for obtaining deer and turkey permits
Increase most sport permit prices
Allow nonresident college and technical schoolstudents to purchase resident permits
Create "Forever" permits for seniors who hunt smallgame and fish each year
Create a landowner registry for those who qualify for no-cost deer and turkey permits
No longer allow resident lessees to qualify for landowner privileges
Increase the landowner acreage requirement to 80 or more contiguous acres
Eliminate nonresident landowner reduced-price deer and turkey hunting permits.
Many are concerned with the proposed rate increases and the change that would require more Missourians who hunt or fish on their own land to have a permit. Missouri is a state with thousands of hunters and fishermen, and I hope every Missourian who cares about this issue will take the time to make their voices heard in Jefferson City
The 30-day window for public comment began November 17 when the proposed changes were published in the Missouri Register. It is not too late to affect the outcome of these changes. You can attend a public hearing or post comments here.