Clifford Wert retires; successor is named
June 25, 2013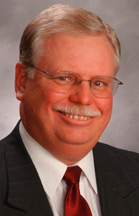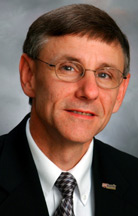 Randy Evans, pictured at left, has been named market president for U.S. Bank in Joplin, according to an announcement by Terry Mills, U.S. Bank community banking division manager. He succeeds Clifford Wert, pictured at right, who will retire on July 1, 2013, from a 40-year banking career.
Evans will continue to lead the bank's commercial banking efforts, collaborating with retail, Private Client Group/Trust, and other bank partners in the Joplin region. He will represent U.S. Bank in the Joplin community from his office at 402 Main Street.
"Randy is a 26-year employee of U.S. Bank," said Mills. "I expect a smooth transition from Clifford's leadership to Randy's. U.S. Bank customers will continue to receive excellent customer service and the bank will continue to be engaged in the community. Randy is a Joplin native, and is committed to the region through his volunteering for the Jasper County Industrial Development Authority, where he is president; as treasurer and board member of the Joplin Industrial Development authority; as a board member of the Joplin Regional Economic Development Alliance and the Neosho Area Business and Industry Foundation; as president of the Joplin Sports Authority and as chairman of the Joplin Area Chamber of Commerce's governance accreditation committee. He is also on the administration council of St. Paul's United Methodist Church."
Evans graduated with a Bachelor of Science from Oklahoma State University in Stillwater. He resides in Joplin with his family.
"Clifford has been an outstanding banker and citizen, and a great friend. We all wish Clifford and his wife, Pam, a wonderful retirement," Mills said. "Clifford is a life-long resident of this area, and his lifetime of community service was recently recognized when he was named 'Joplin Citizen of the Year' by the Joplin Area Chamber of Commerce. Joining the U.S. Bank's advisory board in Joplin will allow Clifford to continue to enhance and support the bank's connection to the community."
Wert's career at U.S. Bank began in 1973 where he served as a teller at First National Bank & Trust Company, a predecessor of U.S. Bank. His banking experience includes management trainee, branch manager, retail lender, commercial lender, credit administration department manager, senior lender and region president. He is a graduate of the Missouri Southern State University in Joplin.
Wert has been involved in numerous civic and charitable organizations, including serving as board member of the Joseph Newman Technology and Innovation Center; as board member and treasurer of Bridge Ministries, Inc. and Connect2Culture; as trustee of Ozark Christian College; as chair of the Joplin Regional Prosperity Initiative's governance committee; a leadership position with Christ's Church of Oronogo; as co-chair of the environment and infrastructure sector of the Citizens Advisory Recovery Team for the City of Joplin and member of its CART Implementation Team. Wert also attended meetings on behalf of U.S. Bank in its role as one of the Bright Futures Business Partners for Joplin East Middle School.
Wert will join U.S. Bank's advisory board after retirement.
U.S. Bank operates 18 banking offices in the Joplin region. U.S. Bancorp (NYSE: USB), with $355 billion in assets as of March 31, 2013, is the parent company of U.S. Bank, the 5th largest commercial bank in the United States. The company operates 3,080 banking offices in 25 states and 5,056 ATMs and provides a comprehensive line of banking, brokerage, insurance, investment, mortgage, trust and payment services products to consumers, businesses and institutions.