Aiding lions and tigers, oh my!
March 15, 2013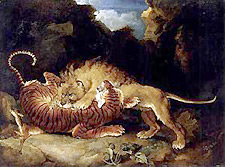 In 1797 artist James Ward painted Lion and Tiger Fighting.
In addition to going on safari, one may witness preservation of these majestic species locally at refuges in Arkansas and Kansas.
Turpentine Creek Wildlife Refuge (TCWR) staff and interns in Eureka Springs, Arkansas finally celebrated completing the relocation of more than 30 big cats from the Riverglen Tiger Sanctuary in Mountainburg, Arkansas where they were the property of Betty Young, the sanctuary owner who in failing health could no longer take care of them.
"This was the largest rescue effort in our refuge's 20-plus year history. Saving over 30 big cats is a monumental task and our team is delighted to be done, but very tired too, this has been a long journey for all of us," said Tanya Smith, president of TCWR.
The journey began in late October with a call from the Crawford County sheriff's office to Smith. "He told us they needed our help to relocate more than 30 exotic cats to approved and licensed facilities. We immediately began fundraising and building new enclosures and picked up the first two cats on November 1," said Smith.
It has taken 128 days and over $300,000 in contributions to relocate all the Riverglen cats. TCWR is now home to 26 of the original exotic felines, bringing their number of big cats to 130+. Other cats from Riverglen, including four black leopards and white tigers, were relocated to Cedar Cove Sanctuary, an approved refuge in Louisburg, Kansas, just 20 minutes south of Kansas City.
"None of this would have been possible without the contributions from individuals and area businesses who believe in our mission," said Smith. "It costs about $10,000 per year to properly feed and care for a tiger or cougar. Now we need to focus on generating new funds since our food bill is really going to grow," added Smith.
Thinking about owning a big cat? The Large Carnivore Bill places restrictions on anyone wanting to own a tiger, lion, or other big cat in Missouri. The next best thing is just being a sponsor.
For making donations or corporate sponsorships go here or phone (49) 253-5841.