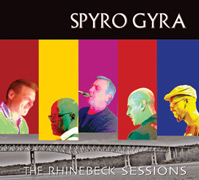 Spyro Gyra has been announced as the headline act for the 2013 Jazz Eureka festival which runs September 13-15, 2013. The band will perform on Saturday, Sept. 14, at 7:30 p.m., at The Auditorium, 36 S. Main St., Eureka Springs, Arkansas. Tickets, ranging from $20 to $42.50, are on sale now here.
A jazz fusion band that formed in the mid-1970s, Spiro Gyra's sound has its roots in traditional jazz, but combines elements of R&B, funk and pop music. They have performed over 5,000 shows, released 29 albums including one that went gold and two that went platinum selling over 10 million copies. Next year Spyro Gyra will celebrate 40 years as a band while showing little sign of wanting to compromise their artistic skill, having earned Grammy nominations for each of their last four albums.
Other scheduled events
A Sunset Serenade will take place from 7-9 p.m. on Friday evening in Basin Spring Park on Spring Street with free music by the Fayetteville Jazz Collective, an 18-piece big band composed of Northwest Arkansas' finest musicians who have over two centuries of combined jazz experience. Dancing will be encouraged.
Music will fill Basin Spring Park again on Saturday from noon until 7 p.m. Performing first will be Alan Gibson and First Line—a group playing a style of music from the 1920s that represents the first transition from blues to jazz. This group features Gibson on flugelhorn with a supporting cast of area musicians including baritone saxophonist Dr. Rick Solonen, a featured artist of this summer's Walton Arts Summer Jazz Composer Series.
At 1:30 p.m. the Richard Bruton Quintet will take the stage. This legendary Springfield tenor saxophonist leads a group of Southwest Missouri's finest musicians doing jazz standards and modern jazz. Bruton is known for playing with an aggressive tone along with a rhythmic drive that can be heard for miles. He has performed with a who's who of musicians throughout the area and the United States.
The Walter Savage Trio follows at 3 p.m. Savage has a reputation for bringing the upright bass—a primarily supportive instrument--into the spotlight. Whether playing legendary bay area jazz clubs like Yoshi's or entertaining people in venues in Northwest Arkansas, Savage lets the bass shine through as a leading force. He also delights crowds with his singing ability.
The final act in the free music line-up for Saturday is the NSU Jazz Sextet, part of the Northeastern State University Jazz Lab, which is home to the Jazz Studies Program, currently under the direction of saxophonist/composer/arranger, Dr. Tommy Poole.
One more free performance in the park will take place on Sunday afternoon. At 1 p.m. the Missouri State Jazz Band will perform traditional and contemporary big band music.