Radon: beware of this silent, invisible killer
October 29, 2007
by Gloria Linnertz
November is not my favorite month. So many times in November my husband Joe and I had to put on our badges of courage and faith to make it through difficult situations. It was November 2, 1979 that Joe had his first triple bypass surgery. On the night of November 30, 1992 Joe passed out in the shower after returning home from work. We discovered in the hospital that he had lost over half of his blood from taking aspirin as a blood thinner over the past 13 years. Twenty years after his first bypass, on November 11, 1999, Joe had his second heart surgery.
Of course, we were so thankful to God that these serious conditions resulted in successful recovery. In spite and because of all of this, Joe remained a very active person with dedicated exercise routines, including walking everyday. He followed a low fat, low cholesterol diet, and, of course, quit smoking in 1979. He loved to tell jokes and make people laugh. He was my light and strength.
Ironically, it was November 2, 2005 when we found out that Joe's liver enzymes were elevated. After many tests we were devastated by the news that Joe had lung cancer that had spread to his liver.
How could this have happened? Where did it come from? We needed our badges of courage and faith more than ever this November.
Joe's oncologist said that the two major causes of lung cancer are smoking and the effects of radon. Joe had NOT smoked for 27 years.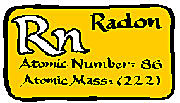 One month after Joe passed, I found out that we had been living with an invisible killer--radon. It is odorless and tasteless. A radioactive gas found worldwide, radon occurs from the natural breakdown of uranium in the soil and rocks. Radon becomes a risk indoors because as it continues to break down, it emits atomic particles that upon entering the lungs can alter the DNA and increase cancer risk. Former smokers or current smokers are at a much greater risk of lung cancer when living with high levels of radon.
Radon is fickle; your neighbor's house may have a low level of radon, while the level in your house may be high. Only a radon test can tell!
If someone just had told us about the deadly power of radon and how easy it is to test and mitigate, we would have done so. Ignorance certainly is not bliss. It can be deadly, and its results have caused me to dedicate myself to the cause of radon awareness.
With the strong support of my state representative, Dan Reitz, and information and support from organizations and individuals concerned about radon in Illinois and other states throughout the nation, the Illinois Legislature passed The Radon Awareness Act (HB1425) that goes into effect January 1, 2008. It states that at the point of sale of a house, the buyer must be notified that the property may present exposure to dangerous levels of indoor radon gas that may place the occupants at the risk of developing radon-induced lung cancer. This notification must include the warning statement, "Radon, a Class A human carcinogen, is the leading cause of lung cancer in non-smokers and the second leading cause [of cancer] overall."
In providing the buyer with any information on radon test results showing elevated levels, a statement from the Illinois Emergency Management Agency (IEMA) must be included that strongly recommends that all homebuyers have an indoor radon test performed prior to purchase or taking occupancy and mitigation be performed if high levels are found. The seller must also provide the buyer with a pamphlet prepared by IEMA entitled "Radon Testing Guidelines for Real Estate Transactions."
I am very grateful for this law. However, it needs more teeth. Mandatory testing of all homes before the sale is my goal. Required testing should be performed in schools, day care centers and nursing homes.
The US government has set the radon action level at 4.0 picocuries per liter of air (pCi/L). Levels above this figure are quick and easy to mitigate.
November is National Lung Awareness Month. I urge you to test your home for radon. It may be the month to save your life and the lives of your family, friends and neighbors. It will be a happier November for you and me.
---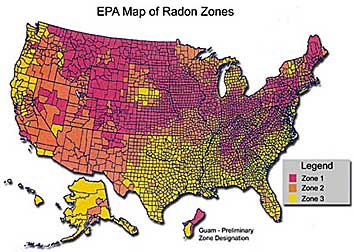 Missouri has a high potential area for radon around Kansas City, with the entire state being listed as having a moderate potential for elevated levels. Mark Adams, president of American Home Inspectors, Inc. of Joplin, has provided the following instructions:
STEP 1: Inform yourself by reading about radon. You will find state radon contact information at the EPA website and at radon.com.
STEP 2: Consider testing the air yourself with a radon kit. Make sure the kit meets the EPA requirements, and follow the instructions carefully to ensure an accurate result. Kits cost around $25 (a professional test can be as high as $300).
STEP 3: Seal the kit as directed and send it to the laboratory for analysis. It usually takes one to two weeks to get the results.
STEP 4: Consider buying a long-term testing kit, especially if you live in an area renowned for radon exposure. Besides long- and short-term testing kits, you can buy passive and active testing devices. Active devices require electrical power.
STEP 5: Consider having your home tested by a professional or a state-licensed tester.
STEP 6: Test the water, too, especially if your water comes from a well. You can buy a radon-in-water test kit or hire a professional or state-licensed tester.
STEP 7: Decide whether further action is needed upon receiving the results of the tests.
STEP 8: Remember that one test might not be enough. The radon level in your home may change from season to season, as well as from room to room. One test may only indicate a potential problem, so test until you are fully satisfied that you have accurate results. It's better to be safe than sorry.
STEP 9: Take action to mitigate the radon level only with the assistance of a professional who is state certified or certified by the National Radon Safety Board or the NEHA National Radon Proficiency Program. Remediation may include installation of fans, vents, pipes or soil suction; repair of cracks in floors, walls, seals or ventilation systems; and sub-slab depressurization. Tips & Warnings: The EPA suggests the following: If a short-term test result is equal to or greater than 4 pCi/l, conduct a follow-up measurement in the same location using either a long-term or short-term testing device. If the test result is greater than 10 pCi/l, use a short-term follow-up test. If two short-term measurements are made, mitigate if the average of the two results is at or above 4 pCi/l. If a long-term follow-up measurement is made, mitigate if the long-term test result is above 4 pCi/l.
The National Safety Council offers low-cost short- and long-term radon test kits. The price includes lab analysis and return postage. Further information may be found here.
Do not trust a radon tester who promises to provide results immediately. Finding out results usually takes time. If the tester claims to use a Geiger counter to give you results, be wary. Geiger counters cannot test the radon level of a home.
Information about testing for radon is offered by the State of Missouri Office of Health and Human Services here.