On the road to extinction: Ozark hellbenders
October 06, 2011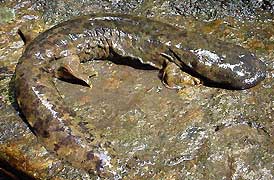 HELLBENDER (Photo by J. Humphries)
Hellbenders (Cryptobranchus alleganiensis) are extremely large, completely aquatic salamanders basically native to the eastern United States but found in the Ozarks.
The U.S. Fish and Wildlife Service on October 5, 2011, designated the Ozark hellbender as endangered under the federal Endangered Species Act (ESA) and also finalized its decision to list the Ozark and eastern hellbender in Appendix III of the Convention on International Trade in Endangered Species of Wild Fauna and Flora.
"The Ozark hellbender faces extinction without the protection afforded by the Endangered Species Act," said Tom Melius, the Service's Midwest regional director. "Listing provides tools and an infrastructure within which partners can pool resources and expertise to help save this species."
Under the ESA, an endangered species is any species which is in danger of extinction throughout all or a significant portion of its range. The Ozark hellbender, which grows to lengths up to 2 feet, inhabits the White River system in southern Missouri and northern Arkansas. Ozark hellbender populations have declined an estimated 75 percent since the 1980s, with only about 590 individuals remaining in the wild. It is believed numbers have dropped because of degraded water quality, habitat loss resulting from impoundments, ore and gravel mining, sedimentation and collection for the pet trade.
Also threatening the Ozark hellbender is a fungal disease, chytridiomycosis (chytrid), and severe physical abnormalities (e.g., lesions, digit and appendage loss, epidermal sloughing) which most Ozark hellbenders exhibit.
In addition, the average age of Ozark hellbender populations is increasing and few young are being found, indicating problems with reproduction or juvenile survival. This, and the multiple threats from disease and habitat degradation, could lead to extinction of the Ozark hellbender within 20 years.
The Endangered Species Act makes it illegal to kill, harm or otherwise "take" a listed species. The ESA also requires all federal agencies to ensure actions they authorize, fund, or undertake do not jeopardize the existence of listed species, and directs the service to work with federal agencies and other partners to develop and carry out recovery efforts for those species. Listing also focuses attention on the needs of the species, encouraging conservation efforts by other agencies (federal, state and local), conservation groups, and other organizations and individuals.
Some fishermen are afraid to touch hellbenders because of their toxic skin secretions. However, considering the new designation, fishermen who inadvertently catch hellbenders should remove their hooks and release them.