Bald eagle shooter(s) sought
January 12, 2012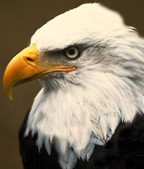 The U.S. Fish and Wildlife Service is actively investigating the deaths of two bald eagles in Kansas. The first was found on January 9, 2012, in a borrow ditch on 370th Road, approximately 1/4 mile north of the Ness County line in southeastern Trego County; the other was recovered a day later near 1700 Road in northwest Montgomery County, approximately 1/2 mile south of the Wilson County line. Both were x-rayed and showed the presence of metal.
Although no longer on the endangered species list, bald eagles are protected by the federal Migratory Bird Treaty Act and the Bald and Golden Eagle Protection Act. The killing of any eagle constitutes a violation of these laws.
Anyone with information regarding the deaths of these eagles is asked to contact the U.S. Fish and Wildlife Service, Office of Law Enforcement in Topeka at (785) 232-5149. the USFWS will pay for information leading to the arrest and conviction of the person or persons responsible for the killing of these or any other eagles or protected species. Anyone wishing to remain anonymous may phone the Kansas Department of Wildlife, Parks and Tourism's Operation Game Thief hotline at (877) 426-3843.