The Missouri Bar chooses officers for 2011-12
September 22, 2011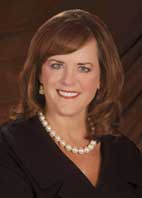 Lynn Whaley Vogel of St. Louis, pictured, has been elected president of The Missouri Bar for 2011-2012. Her selection to lead the 30,000-member organization recently was made during the 130th annual meeting of The Missouri Bar held at the Hyatt Regency Crown Center Hotel in Kansas City. She succeeds John S. Johnston of Kansas City.
A principal partner in Vogel Law Offices, Vogel earned her law degree at the Mississippi College School of Law, and rejoined the board of governors of The Missouri Bar in 2006 after previously serving on the board from 2004 to 2005.
Patrick B. Starke of Starke Law Offices in Blue Springs is the new president-elect. A member of the board of governors since 2006, he received his law degree from the University of Missouri in Columbia.
The new vice president of The Missouri Bar is P. John Brady, a shareholder in the Kansas City office of Polsinelli Shughart. He earned his law degree from Creighton University and has been a member of the board of governors since 2002.
Newly-elected representatives from the three districts of the Missouri Court of Appeals are: Dennis J. Capriglione of Edward Jones Investments in St. Louis; Walter R. Simpson of Sanders- Simpson, P.C. in Kansas City and Raymond E. Williams of Williams Law Offices, L.L.C. in West Plains. They, along with the officers and the immediate past president, will make up The Missouri Barís executive committee.