Webb City band contest to include 29 schools
September 13, 2011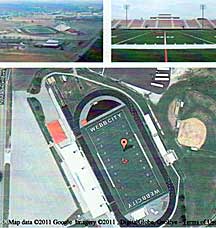 The Webb City Cardinal Pride Band program will be hosting 29 top Four States Area high school marching bands that will be competing in this year's seventh annual "Webbstock" Marching Festival. The event will take place at Webb City High School Cardinal Stadium, 621 N. Madison, on Saturday, Sept. 24, 2011.
The schedule that runs from approximately 8:30 a.m. to 10 p.m. includes the beginning of preliminary competition at 9 a.m. until late afternoon when the top 12 bands battle for the finals, the announcement in the early evening of the names of the top 12 finalist bands, an exhibition of the Webb City Cardinal Pride Marching Band at 6:40 p.m. and the beginning of the awards presentation at 9 p.m.
The towns of the high school bands, all from Missouri unless otherwise noted, listed in performance order are: Miller, Mount Vernon, Riverton (KS), Cassville, Hollister, Carl Junction, Buffalo, Miami (OK), Springfield-Hillcrest, Branson, Springfield-Glendale, Overland Park-Blue Valley SW (KS), Lee's Summit North, Raytown, Joplin, Warsaw, Harrisonville, Monett, Neosho, Republic, Independence-Ft. Osage, Peculiar-Raymore-Peculiar, St. Louis-Lindbergh, Waynesville, Nixa, Willard, Blue Springs and Webb City.
"We created Webbstock as a way to showcase these hardworking and impressive student marching bands, which have achieved a level of excellence," said Webb City Director of Bands, Diana Williams. "We are delighted to be able to share this really impressive and entertaining musical and visual experience with not just band families, but people in the community that come out to enjoy us and support us."
Last year, more than 7,000 people attended Webbstock. Because of Webbstock's year-after-year increase in popularity, Stadium Drive from Madison to Main Street will be closed on Webbstock Saturday to accommodate parking for visiting bands. This decision was made in order to create more spectator parking in the Webb City High School parking lot, which quickly filled to capacity last year.
Webbstock tickets will be sold at the gate for $10 for adults and $5 for children and seniors. Parking at the stadium is free. Food and beverages and shirts and other fan items will be available for purchase at the stadium.
About the Webb City Cardinal Pride Band program
The award-winning Webb City Cardinal Pride Band program includes the Webb City instrumental music programs from middle school through high school. Cardinal Pride is structured to provide students with an all-encompassing music program that includes marching band, jazz band, symphonic band and wind ensemble.
Creator and host of the annual September Webbstock Marching Festival, Webb City Cardinal Pride is invited to and involved in numerous special events and out-of-state performances such as the Tournament of Roses Parade in 2006 and 2010. For more information on Cardinal Pride go here.