Gov. Blunt condemns eminent domain ruling
June 27, 2005
JEFFERSON CITY-Missouri Gov. Matt Blunt today announced his intention to issue an Executive Order creating a special task force to study federal and state eminent domain laws.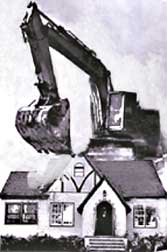 Blunt's decision to form the Missouri Task Force on Eminent Domain comes four days after the United States Supreme Court ruled against homeowners in Connecticut who sought protection from having their homes taken by a private developer for a commercial project.
"Today [June 23, 2005] in a 5-4 decision the United States Supreme Court dealt a blow to the property rights of private landowners and greatly expanded the rights of the government to seize a person's most precious property-a home, a farm or a business-and give it to another private interest just so the government can increase tax revenues. I agree with the dissenting Justices that the Court's decision effectively erases the Public Use Clause from the United States Constitution.
"This is a terrible ruling that undermines the balance that ought to exist between private property owners and the needs of the public," Blunt said. "I am charging this commission with conducting a thorough review of federal and state eminent domain laws to protect Missouri home, farm and business owners from falling victim to a government tax grab."
After conducting the review of state and federal eminent domain laws the task force will also be charged with issuing criteria to be applied by state and local governments when the use of eminent domain is being proposed and to make recommendations to the Missouri General Assembly to protect private property owners if it is deemed necessary.
"I believe eminent domain can be an appropriate tool under certain circumstances," Blunt said. "But it should not be used as a means to take property from responsible owners when no clear public interest exists."
The following are Blunt's appointments to the Eminent Domain Task Force.
Gerard T. Carmody of St. Louis is an attorney with Carmody, MacDonald P.C.
Chris Goodson of St. Louis is president and owner of The Goodson Company and Goodco. Goodson is also a principal at Gilded Age and has extensive knowledge in real estate development.
Sen. Chuck Gross of St. Charles is vice president of Business Development for UMB Bank and is a licensed real estate appraiser and owner of a small appraisal firm.
Rep. Steve Hobbs of Mexico is president of Hobbs Farms, Inc.
Leslie Holloway of Jefferson City is director of State and Local Governmental Affairs for Missouri Farm Bureau (MFB).
Lewis R. Mills of Jefferson City is public counsel who serves as the state's consumer advocate in the area of utility regulation at the Department of Economic Development.
Spencer R. Thomson of Kansas City is an attorney with Blackwell, Sanders, Pepper, and Martin LLP.
Howard C. Wright of Springfield is retired and works under contract as special council for Springfield. Wright has practiced eminent domain law as an attorney for the Missouri Highway Commission, city attorney for Cape Girardeau and city attorney for Springfield.
The nine-member Missouri Task Force on Eminent Domain will only exist until Dec. 31, 2005 and will be assisted by the state departments of Agriculture and Economic Development. Terry Jarrett, Blunt's General Counsel, will serve as chairman. Task force members will receive no compensation for their service.
-----
Opponents tried to argue that shifting land from one private owner to another violated the Fifth Amendment to the Constitution which only allows the government taking of property for "public use." The 5 to 4 ruling redefines the concept of "public use" to include "public purpose".
The Court admitted that while many state courts in the mid-19th century endorsed "use by the public" as the proper definition of public use, the supporting members of the Court addressed the steady erosion of that definition over time. They called attention to cases they had previously heard that defined the concept of "public purpose" very broadly, reflecting their longstanding policy of deferring opinion to pervious state court decisions.
New London, CT formulated a development plan that it considered would benefit the community, including in the words of the Supreme Court of Connecticut "projected to create in excess of 1,000 jobs, to increase tax and other revenues, and to revitalize an economically distressed city, including its downtown and waterfront areas." The Supreme Court upheld the Connecticut Supreme Court's decision that New London had the right to condemn land to achieve this "public purpose" without violating the Takings Clause of the Fifth Amendment to the Constitution. The petitioners' argument that a "reasonable certainty" was needed that the expected public benefits would accrue was rejected by the majority of the Court.
115 privately owned properties were in the proposed development area. Broken down into several parcels, the proposed area included a waterfront conference hotel and adjoining restaurants and shopping, marinas, a riverwalk for pedestrians, 80 new residences, a new U.S. Coast Guard Museum, and 90,000 square feet of research and development space. All of the revitalization centers around the arrival of a new $300 million Pfizer research facility that would serve as a catalyst.
Included among the 9 petitioners owning 15 properties opposed to the proposal were Susette Kelo, a resident in the area since 1997 who had made extensive improvements to her water view home, Wilhelmina Dery who was born in her house in 1918 where she has since lived, and her husband who joined her there some 60 years ago. Court records show that there never was an allegation that any of the properties were blighted or otherwise in poor condition.
Joining Justice John Paul Stevens who delivered the Court's majority opinion were Anthony M. Kennedy, David Hackett Souter, Ruth Bader Ginsburg and Stephen G. Breyer. Dissenting votes were cast by Sandra Day O'Connor, Chief Justice William H. Rehnquist, Antonin Scalia and Clarence Thomas. Dissenting Justice Thomas called the decision a "far-reaching and dangerous result."
For the complete decision, go to here and click on "Kelo v. New London."