Right to bear arms in emergency becomes law
April 14, 2007
JEFFERSON CITY – Gov. Matt Blunt attended the National Rifle Association's annual conference opening session on April 13, 2007, where he signed legislation securing Missourians' right to bear arms during an emergency. The new law reflects the call for action Blunt made in his State of the State Address.
Senate Bill 257, that goes into effect August 28, 2007, states that "the state (Missouri), any political subdivision, or any person shall not prohibit or restrict the lawful possession, transfer, sale, transportation, storage, display or use of firearms or ammunition during an emergency."
"This makes sure what happened in New Orleans will never happen here," the bill's sponsor Sen. Kevin Engler said. "Missouri is vulnerable to earthquakes, tornadoes and floods, and now Missourians will not have to fear losing their 2nd Amendment Rights when they need them most to protect their families and homes."
---
Editor's note:

Blogger Dave Nalle describes the New Orleans seizure this way: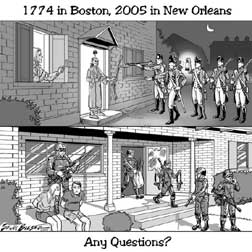 "At the height of the chaos in New Orleans, when gangs were ravishing the city the government decided to help out. Not by protecting neighborhoods and arresting looters. Instead they went after private citizens whose only crime was trying to defend themselves and their property.
Acting under an emergency statute which had never been used before, and on the orders of the Governor and Mayor, police in New Orleans, later supported by National Guardsmen, began going house to house and confiscating privately owned firearms in direct violation of the Second Amendment, leaving honest citizens who were already without water, food, electricity and decent shelter at the mercy of looters and other criminals. All these citizens wanted to do was to defend their homes and instead having already lost everything, they lost their last freedom, the freedom to defend themselves.
...this incident remains as an object lesson to all of us in how vulnerable we are in the face of government abuse of power, and how the interests of government are not always the interests of the people....."