Blunt continues to promote agri-conservation
August 15, 2007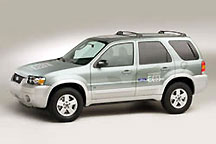 Ford Escape Hybrid E85
(Photo from media.ford.com)
KANSAS CITY - Gov. Matt Blunt today announced that state government will continue promoting agriculture and conservation with a lease of the new Ford E85 Escape Hybrid, one of only 20 combination hybrid and renewable fuel vehicles in the nation.
"My administration has and will continue to strongly encourage the use of these environmentally-friendly technologies," Blunt said. "The use of renewable fuels improves our environment and the air we breathe. With old-fashioned American ingenuity, like that displayed by the Ford Motor Company, we can become more energy independent. Our state is doing our part to look for alternative fuels to help lessen America's dependence on foreign oil. The more clean-burning, renewable fuel Missouri produces and uses, the better off we will all be in the long-term."
The Ford E85 Escape Hybrid is the world's first hybrid vehicle capable of operating on blends of fuel containing as much as 85 percent ethanol. In a ceremony today, Ford executives handed the keys to the vehicle to Gov. Blunt for the state fleet. Like other hybrids, the E85 can switch automatically between pure electric power, pure fuel power, or a combination of the two. The E85 Escape Hybrid produces about 25 percent fewer greenhouse gas emissions than a gasoline-fueled Escape Hybrid. It also runs on renewable fuel, which supports Missouri farm families and can help reduce the nation's dependence on imported oil.
The state fleet currently has 14 hybrid-electric vehicles and 1,032 E85 vehicles. As of today, the E85 Escape Hybrid is the jewel of the state fleet.
Protector of environmental resources?
Since taking office the governor has been a leader in promoting the use of renewable energy and a committed environmental steward. In addition to signing a 10 percent ethanol standard for the state and directing 70 percent of any new vehicle for state government to operate on flexible fuel, Blunt has introduced many common sense changes to conserve limited and valuable environmental resources and to save taxpayer dollars.
A partnership created under the governor's leadership joins a local electric company, energy services provider, waste disposal company and the state to create renewable energy and heat using landfill byproducts. The innovative project uses resources that would otherwise be wasted while at the same time producing benefits for the environment, the state, and local communities.
Blunt has also implemented several small changes that have had a big environmental impact. For example, an old water tower that would have otherwise been trash was sold to be reused in a local community, saving waste space, deconstruction costs and recycling a valuable resource. A new system introduced under the governor's leadership to handle prison laundry services reduces phosphates in waterways, uses cold instead of hot water and takes less water to operate overall. He has also implemented new procedures to improve permitting compliance and enforcement efforts.
This year the governor signed a budget that includes $1.1 million for the environmental emergency response program, which responds to emergencies that threaten the environment and that paves the way for $50 million in additional Water Pollution Control Bonds, which fund water quality grants and loans to communities throughout the state that will control water pollution, and improve water supply and sewer systems. In addition annual funding for Clean Water Programs has increased $2 million since the governor took office.
Editor's note:

Acccording to Nancy Gioia, director, Sustainable Mobility Technologies & Hybrid Programs, Ford in January 2006 was "working on the [Ford E85 Escape Hybrid's] whole system, from the fuel tank through to the tailpipe, to optimize fuel efficiency and lower emissions."

Although Ford engineers had achieved very low tailpipe emissions with flexible-fuel vehicles (FFVs), evaporative emissions remained a challenge because some blends of ethanol are much more volatile than gasoline necessitating a more aggressive evaporative system. A full hybrid application presented additional evaporative challenges, because the vehicle often operates on electric power alone without actuating the evaporative vacuum system that operates when the gasoline engine is in use.

Ford engineers pursued a number of strategies to address this challenge with the goal of achieving partial zero-emissions vehicle (PZEV) status. No FFV had been certified to this extremely clean standard, because of the evaporative requirement in the PZEV standard.

"Hydrogen holds the ultimate long-term promise for clean and sustainable power," Gioia said at the time.

For the total Ford article go here (http://media.ford.com/article_display.cfm?article_id=22474).