Think green, save green
July 21, 2008
If you are thinking about buying a new appliance--washer, dryer or refrigerator--, you might try to postpone the purchase until next spring. Gov. Matt Blunt recently signed SB 1181 sponsored by Senator Kevin Engler (R-Farmington) that creates a "Show Me Green Sales Tax Holiday" beginning April 19 and ending April 25, 2009. What this bill authorizes is that all sales of Energy-Star Certified new appliances up to $1500 will be exempt from state sales tax.
"This Show-Me Green Tax Holiday rewards Missouri families that make environmentally-friendly choices that are good for energy efficiency and good for their family budget," Gov. Blunt said. "I am pleased to sign this legislation giving an additional incentive to purchase energy efficient products, saving energy, saving money, and ultimately helping to preserve our environment. Now for one week every April, we will forgive state sales tax on Energy-Star certified appliances."
With the governor's signature, Missouri becomes only the fourth state to enact this environmentally-friendly sales tax holiday joining Connecticut, Florida and Virginia.
This legislation also allows 100 percent of the cost of a home energy audit conducted by a certified energy auditor and the costs of implementing any of the recommendations made in any such energy audit, to be deducted from a taxpayer's federal adjusted gross income. The deduction is limited to $1,000 per taxpayer per year and up to $2,000 cumulative lifetime total per taxpayer.
---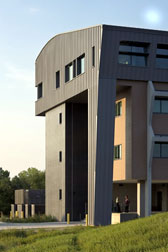 Missouri is home to the only state building in the nation with a platinum rating from the U.S. Green Building Council. The Missouri Department of Natural Resources' Lewis and Clark State Office Building, 1101 Riverside Dr., Jefferson City, incorporates numerous elements of sustainable design, minimizing its impact on the environment while providing employees with a more productive work environment.
---
Blunt has been instrumental in identifying and employing the use of alternative energy sources in Missouri. Last year the governor announced a partnership to create renewable energy and heat using byproducts from the Jefferson City Landfill. Methane gas from the landfill is converted to electricity, and the heat created by conversion facilities is used to heat water for the state prison. The project uses resources that would otherwise have been wasted while at the same time producing benefits for the environment, the state, the prison and local communities. Blunt's support for proactive solutions to save energy and protect the environment once implemented will both reduce energy use and save taxpayers nearly $16 million in energy costs. Initiatives include a range of projects from centralizing and monitoring statewide energy consumption to changing laundry operations at prisons.
Last summer the governor signed the Green Power Initiative. The Initiative has been heralded as the most important environmental legislation passed by the state in more than a decade. It decreases pollution from energy production by encouraging an increase in the use of renewable energy sources such as wind, hydroelectricity, solar power, hydrogen and biomass. The legislation sets targets for utilities to meet: a four percent renewable energy target by 2012, eight percent by2015 and 11 percent by 2020. The legislation also requires the Office of Administration to ensure that at least 70 percent of the new vehicles purchased for the state fleet are flex fuel and allows municipal landfills to accept yard waste in order to create bio-reactors which produce methane gas for use in energy production.