New look for Missouri Governor's Mansion
November 28, 2008

Governor's Column
By Governor Matt Blunt
Preserving the People's House

---
The Missouri Governor's Mansion is unlike any other landmark in our state, acting as both a residence and a historic resource. This historic home is an active and vibrant time capsule of our state's history and it is only right that it be preserved and protected for future Missourians to enjoy.
The Missouri Governor's Mansion was constructed in 1871 and has since served as a residence for 33 Missouri governors and their families. It is a Renaissance Revival-style home, designed by St. Louis architect, George Ingham Barnett. As one of the oldest homes in the country built for and still the home of a standing governor, it has been listed on the U.S. National Register of History Places since 1969.
I was pleased to sign an appropriation this year to provide critical funding for long-overdue improvements and repairs at the Missouri Governor's Mansion. This funding will help ensure that this historic home is in good repair for generations to come.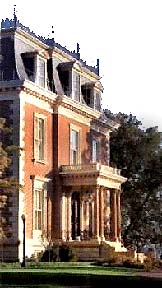 The much-needed repairs to the historic Missouri governor's mansion have been a top priority for Melanie, Missouri's First Lady, who sought support for these critically needed repairs and restoration work. To pay for structural repairs, including the roof, she successfully advocated for the General Assembly to provide $3 million in state funds and personally oversaw project details to ensure restoration remained true to the home's historic design. The $3 million covered important mansion repairs, including:
 :
$780,000 to repair the mansard slate roof and replacement of flat, membrane-type roofs. The life of the mansion's roof is 40 years and the last significant repair and installation of the roof was in 1965.
$1.1 million to restore and repaint all windows, repair exterior masonry, and repair and paint all windows, trim, cornices, and columns. The window frames and sashes showed splintered and rotted wood which could not adequately support large glass panes.
$1.2 million for the partial replacement of the 23-year-old heating and cooling system that was malfunctioning and was well-beyond its life capacity, replacement of first floor kitchen needed for health, safety and efficiency, interior flooring and plaster repairs and other minor interior repairs and painting.
The preservation of the Governor's Mansion would not have been possible without the efforts and commitment of Missouri's First Lady, and I am especially proud of Melanie and the leadership she has provided for this important effort. Melanie encouraged the General Assembly to appropriate the funding needed for structural repairs and met weekly regarding the restoration with the general contractor, project manager, the State Historic Preservation Office, Missouri Mansion Preservation and others. She is deeply committed to ensuring the preservation of the people's house.
One of my goals has been to leave Missouri government in better shape than when I started and Missourians have benefited as a result. Melanie and I have taken that same approach to preserving the Governor's Mansion, which is actually a bit of a misnomer. It is called the Governor's Mansion, but it is really the people's mansion.
---
For an online tour of the Missouri Governor's Mansion go here.