Joplin lawyer named top MATA attorney
July 02, 2008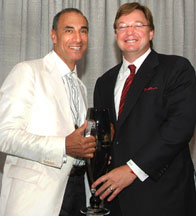 Edward J. Hershewe, at left, is with outgoing MATA President Grant Davis after becoming the recipient of the Thomas G. Strong Award. It was presented to him at the 50th Annual Convention Banquet on June 22, 2008 at the Lodge of Four Seasons, Lake Ozark, MO.
The Thomas G. Strong Trial Attorney Award, given annually by MATA to the Missouri attorney who best exemplifies the qualities of professionalism, ethics, character and courtroom success, is given this year to Edward J. Hershewe, of the Hershewe Law Firm, PC, in Joplin.
Hershewe says winning the award is thrilling not only because he is being honored in the name of Tom Strong, a trial attorney whom he has long idolized, but because it also pays homage to his wife and their five children.
"Tom Strong is the guy that I looked up to when I was a young kid; the one who you want to follow, who you want to be like," Hershewe said. "I thought if I could just follow in the footsteps and follow his example, if I could just stick with it like Tom did… he was one of those who believes every client deserves a chance."
As for having his wife working with him and his family supporting their efforts, "a calculator doesn't have enough numbers on it to calculate the value of what my wife and my kids have done," Hershewe said. "They are my true partners and when I work hard or have to do a trial and my kids don't get to see me or their mom, they understand and they've always been proud."
Founded in 1951, MATA represents 1,300 trial lawyers who are dedicated to protecting the civil justice system and the right to trial by jury, safeguarding victims' rights, promoting injury prevention, and disclosing information crucial to public health and safety.