Kleybanova retires with shoulder injury
June 28, 2014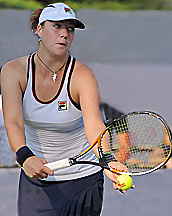 Springfield Lasers team member Alisa Kleybanova, pictured, announced Friday, June 27, 2014, she will not be able to play Mylan World TeamTennis this season, due to a shoulder injury.
Kleybanova, 24, from Moscow, Russia, helped lead the Springfield Lasers to the 2013 Mylan WTT Western Conference Championship, earning the league's Female Rookie of the Year award.
"I was so looking forward for the WTT season this year representing one of the best teams, the Lasers!" Kleybanova told the league Friday. "It's very sad for me, due to an injury, not to be a part of it. I had an amazing time last year, the whole atmosphere on the team — players, coaches, staff — felt like a big family and I will really miss it. I just want to wish all the best and hope to be back strong and healthy for the next year's season! Go Lasers!"
Kleybanova joined the Lasers roster in March 2013, after a two-year interruption in her tennis career while she battled Hodgkin's lymphoma. Since then, she has climbed from a No. 549 international ranking to No. 82, and is determined to recapture her career-high No. 10 singles, No. 20 doubles, both set in 2011.
Kleybanova appeared at both the French Open and Wimbledon in the last month, reaching the third round of the women's doubles event in Paris with Jelena Jankovic. Her injury became apparent at Wimbledon, as her shoulder was heavily taped during her first-round defeats in singles and doubles.
"Alisa will certainly be missed this season," said Bob Belote, Lasers ownership representative. "She's one of those special players who's not only great on court but also great with our Lasers family and it's many fans. We wish her the very best with her recovery and very much want to see her back in a Lasers uniform next year."
Olga Govortsova, 26, from Minsk, Belarus, will replace Kleybanova on the Lasers roster. Govortsova is currently ranked No. 105 in singles, No. 87 in doubles. Govortsova appeared in the first round of ladies' singles at Wimbledon this week.
"I think we will be very pleased with Olga Govortsova and what she will bring to this year's team," said Belote. "She's an outstanding singles and doubles player and we couldn't be happier to pick her up for the 2014 season."
Tickets are now available for the Springfield Lasers home season, held July 6-23 at Mediacom Tennis Stadium, in Cooper Tennis Complex, 2331 E. Pythian, Springfield. Matches begin at 7 p.m. Gates open at 5:30 p.m., with live music 5:30-6:30 p.m.. Concessions and the VIP Food Center both open at 5:30 p.m..
Grandstand tickets are $10 (July 6, 7, 18 and 23) $15 (July 12 and 17) and $20 (July 13.) Box Seat tickets, season tickets and VIP packages are also available. To purchase tickets, call Cooper Tennis Complex at (417) 837-5800.