Don't miss this opportunity to laugh your ass off
March 05, 2008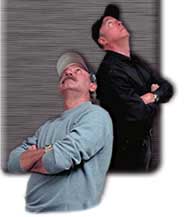 The Bob & Tom Radio Show heard coast-to-coast on over 150 stations including mornings on KXDG (97.9) will be bringing comedy stars to Joplin. The mature content show will take place at 7:30 p.m., Friday, March 7, 2008, at the Joplin Memorial Hall, 8th & Joplin streets. Emcee Kristi Lee will introduce David Crowe, Greg Hahn, Costaki Economopoulos, Caroline Rhea and Donnie Baker, the entertainment for The Bob & Tom Comedy All-Stars Tour.
"There is an energy you only get when you are in front of a live audience. The laughter inside a radio studio can't compare to the collective laughter of thousands of people in the venues we're playing," said Tom Griswold, who with parner Bob Kevoian, is the star of The Bob & Tom Show. "The talent showcased on this tour is unparalleled. You are in for a great show in a smoke-free theatre environment."
"The Bob & Tom Show," the most award-winning show in radio, is inspired by the day's news, sports and topical lifestyle. They have racked up seven Billboard Magazine Radio Personality of the Year Awards, nine awards from Radio & Records, and an unprecedented five Marconi Awards from the National Association of Broadcasters.
Tickets for the event are $27.50 per person.
For the Bob & Tom joke of the day go here.