Evacuation from Egypt
February 15, 2011
We first flew into Amman, Jordan where we had someone in the airport waiting for us with our name on a sign. The tour company representative expedited us through baggage, passport control, and customs in about two minutes. A waiting taxi took us to the very nice
Kempinski Hotel Amman
where we checked in and found friends waiting for us along with a nice dinner and some rather good local wine.
The next morning we boarded a small bus with 10 other people accompanied by our tour guide Osama (a good one) and used it as transportation for the next three days. We spent the day in Amman with most of that in the ancient city of Jerash, similar to Pompeii but much larger. We then drove a couple of hours across the desert to Petra, checked into a hotel, and in the morning walked into the ancient city which is a World Heritage Site and named one of the places one must see before one dies. It was truly spectacular. Most of us remembered the famous tomb made even more famous by the Indiana Jones movies.
The next morning we headed back to Amman, stopped at the shrine at Mount Nebo where Moses found the "promised land" at the north end of the Dead Sea. Sorry, but it just looked like your basic desert to me.
Back to the excellent Kempinski Hotel for the night and off to the airport for a 3 p.m. flight. Things went downhill from this point on. Being in Jordan we were out of the loop when it came to news.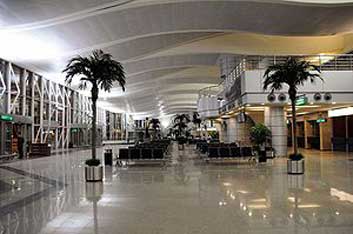 Terminal 3, Cairo International Airport
Our flight landed in Cairo, Egypt about 4:30 p.m. into a curfew that had been upgraded to 4 p.m.. There was no one to greet us at the airport and we could not leave due to the curfew. About an hour and a half later, a travel representative showed up and wondered why we were there with the "revolution" taking place. It turns out that we were the last regular plane to arrive in Cairo after quite some time. How lucky can you get?
The tour company representative that finally met us promised to take care of us and stay with us. He immediately disappeared and we never saw him again.
No one at any of the emergency numbers we were given answered the phone. The Internet was shut down and the local phone service only worked about one half the time.
Several hours later another tour company employee showed up with a worried look on his face but not for us. He was very worried about his family and looters in his neighborhood.
We were stuck in the almost empty "arrival" terminal where there was a small coffee shop as well as a mini mall you could reach through a walkway without leaving the airport complex. The coffee shop ran out of food early on and we went to the mini-mall for dinner. Both the restaurant in the mall as well as the terminal had a very loud TV blasting the Al Jazeera station. With the Internet being down and the TVs in Arabic, we had no access to news about what was really going on. We did meet some very nice Egyptian people who all told us to stay in the terminal building. We did check and found the two nearby airport hotels were completely booked. The people also told us that there were men outside that were asking for protection money to escort anyone to the other terminals. We decided to spend the night in the terminal where we were and slept as best as we could.
Plans finally conveyed to us by the tour company were to pick us up at 9:30 a.m. and take us to the Cairo Marriott. Unfortunately, the Marriott was downtown and just over the bridge from the square where all the protesting and rioting were taking place. The bridge to the Marriott was also the same bridge both sides had been battling for during the night.
We were afraid that we would never be able to get back to the airport. Instead we decided to venture out of the terminal where we found two hotels about three blocks away. We selected one and were able to get reservations. I was able to contact our long lost tour company representative from the night before and told them where we were going. He was upset and told me to stay put. I told him how swell his service was and hung up. Two other couples in our group did not have plane reservations like we had and decided to stay in the terminal to meet the tour company people. We boarded a shuttle to the hotel.
The texting function on my iPhone was still working enabling me to be in contact with my excellent travel agent in the states as well as family members that were worried about us. Our plane reservations were for Tuesday morning on a Lufthansa flight to Frankfurt. We did not want to leave the airport complex since there were lots of private guards with machine guns there. The Iberotel Hotel turned out to be decent and much better than a night in the terminal. It had a pool, workout room, restaurants with food, and a casino that never opened because no one came to work. To our amazement, it also had spotty Internet access.
The two other couples in spite of spending hours with the tour people could not get reservations to fly out of Cairo. They also could not get to the Marriott and ended up in the same hotel as we did. We all had dinner together that evening. During all this time, we heard no gun shots and felt reasonably safe even though we were not under the protection of the tour company.
Early the next morning we walked from the hotel to the departure terminal about 1-1/2 half miles away. I have never seen so many dirty, hungry, tired, frustrated people in one place. We were hoping to speak to an airline representative, but there were none. There also was no food, no water, and no toilet paper in the terminal. Just wall to wall people! They told us that airline representatives would show up about 11 a.m. We took a shuttle to Terminal 3 and found it even more crowded and dirty. All flights had been canceled and we assumed that our scheduled flight the next day also would be canceled.
Someone on the bus back to the hotel area told us that the U.S. Embassy was scheduling flights out at 11 a.m. but did not have details. We were able to contact the U.S. Embassy in the states. They told us about the evacuation flights that would be leaving from the charter terminal a couple miles away. We were packed and out of the hotel in less than 20 minutes.
We took a taxi from the hotel to Terminal 4. Our driver had a "twenty" in his hand as we came up to an army blockade. We had discovered that everyone is on the take here. The young army man with the automatic weapon, however, did not take the bribe but just waved us on.
We found about 500 Americans already in line for a U.S. Embassy flight; so we just took our place at the end of the line and waited. About 7 hours later, we were at the front of the line and receiving boarding passes to Cyprus which was the next plane to load. Sick, old, and people with children had been waiting with us outside in the sun, but about the time we reached the front of the line, U.S. Embassy officials brought water. There was no food available anywhere.
We had to fill out paperwork agreeing to pay for the flight out at whatever they said it would cost. We got on a plane about 7 p.m. and waited patiently for over two hours for approval to take off. It was about 95 degrees in the plane. They did give us water (no food) after about 2 hours. A half hour later the pilot had permission to take off to Cyprus.
It's a short flight of about on hour and a half to a brand new very nice airport in Cyprus. The plan was to cycle the Embassy planes to Cyprus, Istanbul, or Athens and back. I'm not sure if anyone got out after us.
Upon landing we found very nice people, food from the Cyprus Red Cross, and bottled water. U.S. Embassy representatives were there in force and couldn't do enough for us.
My excellent stateside travel agent already had hotel reservations waiting for us at a nice beach hotel in this resort area. Thank God for text messages. Seven of us went to the hotel. Six from the original group and an interesting Egyptian man we met in line.
Since the flights out to Frankfurt were only every other day, we took a local bus about six miles to the town and toured the local fort and church. We had a wonderful Greek dinner together at a local restaurant just down the street from the hotel. We consumed huge volumes of food and wine, spent a nice relaxing evening and found the people in Cyprus to be wonderful.
We took a flight the next day to Frankfurt, spent the night there and had a direct flight home on Thursday. The flight home was "uneventful".
I checked with a ticket agent to see what a business class upgrade would cost and was not surprised to find it about $2700 a person; so we did not purchase it. After receiving our economy boarding passes, we found that we didn't have seats together. Upon reaching the gate, I asked at the counter if they could possibly seat us together and they said the best they could do was in the center and a row apart, but would call me if they could work it out. After I mentioned that we were evacuated out of Cairo, they were very interested in our plight. We chatted for a minute or so. Ten minutes later they called me over the PA system and said they got us seats together and a small surprise – free upgrades to business class. What a treat on Lufthansa! It was a very pleasant and comfortable 10-hour ride home.
So I went to Egypt and never even saw a pyramid! Very sad, but at this time, I probably won't make the effort again. I understand that my tour company is refunding the entire cost of the tour including the days in Amman and Petra, but not the airfare. There is a possibility that the insurance we purchased will take care of refunding the entire amount, but we will have to see.
It was discouraging discovering in Egypt that everyone was on the take including police and even schoolteachers. Every bathroom in the country has someone in it with their hand out. We did meet some wonderful Egyptian people who were embarrassed by the actions of their countrymen. We also met a number of tourists that were in downtown hotels and very scared because they witnessed a lot of looting, heard shots, and saw buildings burning very close to them. But hotel security there is far and above anything ever experienced in the U.S. Private guards were everywhere with large automatic weapons. It seemed a very different way of life. I am happy and privileged to be back in the good old USA!
Commentary by Jim (last name withheld by request)