Jamie McMurray thrills fans with Daytona win
February 15, 2010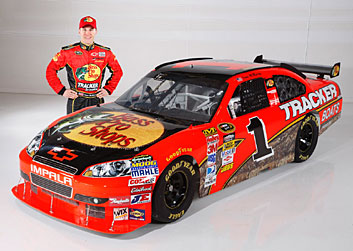 Local racing phenom Jamie McMurray stands beside the No. 1 Bass Pro Shops Chevrolet that he drove into Victory Lane at the Daytona 500 yesterday. (Photo thanks to Bass Pro Shops).
Daytona Beach, Florida---February 14, 2010--- Driving for Earnhardt Ganassi Racing, Jamie McMurray, in the No. 1 Bass Pro Shops Chevrolet, raced to victory around the 2.5 mile Daytona International Speedway rival at the 52nd running of the Daytona 500. Also known as "The Great American Race", the Daytona 500 is the biggest, richest and most prestigious event in America.
"I've had a lot of stuff going on with the changing teams and moving to a new shop," commented McMurray "I'm proud of the guys and their efforts on the Bass Pro Shops Chevy. This is a great victory and I share it with all outdoorsmen and women."
The 2003 NASCAR Winston Cup Rookie of the Year is in his eighth consecutive year driving in the NASCAR Sprint Cup Series. McMurray's last victory was on November 1, 2009 at the AMP Energy 500 at Talladega Superspeedway.
"All of us at Bass Pro Shops are extremely proud of Jamie," stated Bass Pro Shops founder Johnny Morris. "We dedicate this race to all our associates and customers who are racing fans."
---
Thrilling finish to otherwise frustrating race
Greg Biffle gave McMurray the initial push and then passed him, but Biffle said he did that too early giving McMurray an opportunity to get around him again. When McMurray saw Dale Earnhardt Jr. in his rearview mirror coming on strong---from the 10th position to the second position--, he was heard to say, "Crap." But McMurray took advantage of having Earnhardt behind him. In spite of Earnhardt's hard charge, he just couldn't catch McMurray.
There were a record number of leaders for most of the race and as many as 33 cars were left in the lead lap. "The big one" or the wreck that would have lessened the number didn't happen. But there still were incident-causing delays.
A new NASCAR rule in place to make sure the race ended with a green flag helped McMurray. In the last lap when the green flag went to yellow the second time McMurray was able to eliminate Biffle.
McMurray was in tears after his stunning win mentioning he had done it with his father and wife in the audience. But ironically his father had left the race track, citing all the delays. Snarled in traffic, he could only talk to his son via phone. The win was an unexpected happy surprise for everyone: Jamie, the pit crew and his father.
McMurray may be found on facebook here.