The killer's M.O. makes for a chilling tale
February 28, 2007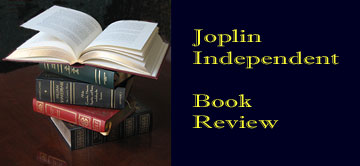 by Jack L. Kennedy
James L. Castner's novel The Tsantsa Homicides has something for just about everyone. It would be a mistake if the reader were to put it down before the often-chilling journey ends where it began--in sunny Florida after a trip south of the equator.
The book's diverse elements include:
A taste of the CSI crime scene investigation tv shows' aura.
Smart, older graduate students falling madly, passionately in love seconds after they meet.
Scenes from some of the world's best-known scientific collections.
Bugs
Kidnapping
Ecuadorian small-town and jungle culture
Scary e-mails and cyber-stalking
Tough old-school Miami cops
A serial killer
An unlikely rescuer
And--shrunken heads, or "tsantsas"
Throw in an author who interviews himself and who once was an adjunct faculty member at Pittsburg State University, and you have one of the most enticing, readable novels of its type to come along in a while.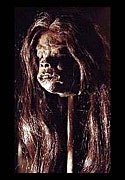 The volume's literary feet are planted in both fact and fiction--with a debt to children's books. While Castner was writing a series of books for children about the Amazon River Basin, he developed a fascination with shrunken heads or "tsantsas" as the Shuar people of Peru and Ecuador call them. The Floridian researched for two years, and has written extensively about the practice. One of his prominent non-fiction works is titled, Shrunken Heads: Tsantsa Trophies and Human Exotica. A nationally-known insect photographer who studied entomology at Rutgers and the University of Florida in Gainesville, Castner decided to turn fact into scary prose.
In the sometimes-macabre text, former Miami detective now UF graduate student John Douglas meets Jessica, a fellow grad student from Great Britain, who has brains, drive and certain other attributes that soon attract him to her. The pair, driven ever-closer in the name of science, take on the job of helping the authorities investigate a series of multiple homicides with headless corpses. Hey, students and mystery lovers, college need not be all play and no work. The two can co-exist, as he and Jessica learn. As they began to study all sorts of things, including each other, "Douglas released her gorgeous bosom and took from his shirt pocket the beetle wing he had found." Beetle wings, it would appear, do wonders for relationships. Castner is no dummy....sex and science in the same scholarly sentence. OK, so the beetle wing has a legitimate role in this drama; it helps place the origins of the killer.
While seeking information on the possible serial decapitator, John and Jess visit various museums and experts that really exist. At one point, Castner as author interviews himself about headhunting customs--a literary device you will not often see, where fact and fiction literally meld. But it works. Sort of like playing yourself in a movie you produce.
As the detective turned scholar and scholar turned detective unravel the mystery, Jess encounters the killer in Florida but cannot prove it immediately. A cyber-chase ensues, in which he taunts her, stalks her, via e-mail. (So be careful the next time you open your spam.) The bad guy even leaves her a picture of herself--with her head missing.
Their growing desire (to solve the case, that is) ultimately leads the adventurous pair to Quito, Ecuador, and then to a small rural town close to the tribal headshrinkers. Kidnapping, a run down winding rivers, and an unexpected rescuer who helps them tie the whole thing to the Florida murders, complete the tale. On occasion, there might seem to be a bit too much detail about the science or the environment, but generally the novel moves as swiftly and treacherously as the Ecuadorian waters in which it has its climax.
Some Pittsburg State University students have taken a similar trip, but it was not nearly as dangerous. Circa 2000, Castner and PSU biology professor Stephen Timme co-taught a Tropical Biology class in Peru's Amazon country, and that year Castner's work was cited at a PSU faculty authors reception. No students were kidnapped or needed to be rescued by a handsome academic prince in this real-life adventure, however. Delia Lister, a Pittsburg State staff member who was then a graduate student on a trip to Peru, recalls he was "a really neat guy."
Castner could not be reached immediately for comment. It may be time to send out an expedition to look for him---but given his literary and scientific tastes, make sure you pay up your life insurance before you volunteer to help.
---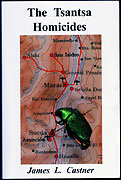 Title - The Tsantsa Homicides
Author - James L. Castner
Publisher - Feline Press (12-21-06)/340 pp./$15 (available from Amazon.com or the author
Versions in paperback--ISBN-10: 096251506X and ISBN-13: 978-0962515064

---