A look beneath the faces of history
June 01, 2007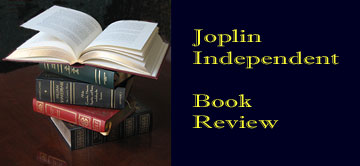 by Jack L. Kennedy
Thrown together in a small book that barely touches their accomplishments, what do 18 leaders have in common?
Not much, at least on the surface--and, perhaps, that is the major point to absorb from Susan Vollmer's Legends, Leaders, Legacies.
The former journalist-photographer who is now a St. Louis-area businesswoman chose a broad range of subjects--from Joan of Arc and Mexico's Emiliano Zapata to Scottsman William Wallace and Robert Capa, the Life magazine photojournalist. Some are from very distant pages of history, several from the W.W. II era. The essays about them are not very long--so brief at times, in fact, that readers will often wish she had supplied more information, a bit more context and color and detail. It is difficult to know what she considers the primary market for the volume. Elementary school students certainly would benefit, as would a college class in leadership development..
Although the book does tend to leave the reader hungry for a morsel or two more, there are ways to supplement that diet, as a student or as a vacationer looking for good "beach reading." There is a rather extensive bibliography, should you choose to travel that route, with several books about each of the leaders chosen.
The leaders and legends, from different eras and with varied backgrounds, do not instantly provide common threads from which to weave a new cloth of courage for today. But that may, in fact, be the most valuable lesson from the book. Most are "ordinary folk" who did not start out to found a global crusade or notch a place in history. They saw an injustice, such as the treatment of the Jews in wartime, poverty, political imbalance and oppression. They saw it not at a distance on their equivalent of the Nightly News, but close up. They touched the hands and saw the faces--real faces--of people who were in need. Then they did something about it. We do not always see those faces--much less act. They did.
As Vollmer says in her introduction, "sometimes the task at hand seems so formidable that you don't even want to begin. You question whether or not your contributions will be noticed. You question your ability. You question if one person can make a difference." But, she adds, "you have something to contribute--just like those who came before us."
In an epilogue or summary chapter, she says in part: "Being a leader means being focused. This enables you to accomplish your most important priorities. You cannot be all things to all people." But we each have an obligation to be Something to Somebody, Vollmer suggests---to look beyond our own lives at others' faces and see what we can do for them.
The book spans personalities from the 13th Century to Sept. 11, 2001. (Perhaps, an updated version will add more contemporary names.) We all can (or should) add our own candidates, many of whom are "the quiet ones" around us whom we do not see because they want to call attention to others, not to themselves.
There are women in the book like Edith Cavell, a First World War nurse in Europe and force in the Underground movement whose dedication led to her death. She did not take a short course as a child in how to become an inspiration and inflate her ego. Neither did Michael Collins, the farm boy who became a leader in Ireland after the turn of the 20th Century, or Capa, the camera genius who captured the faces and force of five wars during his career. Yes, a camera can be a weapon. Nursing skills can be. Simply caring can be catching, if we let it.
If the book's brevity leaves the reader hungry for more, its lack of pictures of the chosen leaders might also. It would have been good to be able to match faces with actions--as the book itself urges the reader to do. But as a diverse "word photo album" of simple-sentence snapshots, it was the winner in the biography category of the 2007 Indy Book Awards, the author reports.
Perhaps, the leaders would prefer that others be pictured--not themselves. Look for those faces.
---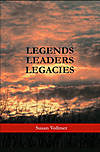 Title - Legends, Leaders, Legacies
Author - Susan Vollmer
Publisher - Bootheel Publishing; First edition (05-01-07)/352 pp./$39.95 (available at Amazon.com)
Versions in hardcover --ISBN-10: 0979523311 and ISBN-13: 978-0979523311

---