Kids as killers is subject of book
September 19, 2007
by Jack L. Kennedy
"It can't happen here...."
Not long ago, many of us thought school violence, threats, intimidation and killing could not occur in our own schools, whether small rural classrooms or large urban settings. But incidents across the country, from Columbine to Virginia Tech and locally to Joplin Middle School with the alleged use of an assault rifle by seventh grader Thomas White to, most recently, Pittsburg State University with the arrest of Nathan L. Backs of Leavenworth for allegedly making criminal threats, have proven that we must re-think that frame of mind, and be pro-active, not just reactive.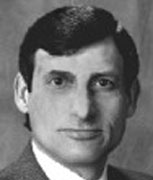 In 1999, Dr. Henry M. Petree, pictured, took a church pastorate in Fort Gibson, OK. He also began a counseling ministry in that normally placid community. With the rise in incidents in Ft. Gibson schools his ministry evolved into a program that he named, Critical Incident Stress Debriefing. It was supported by schools in Fort Gibson, across the state and elsewhere.
"Nothing ever happens here," some skeptics or optimists told him. When a shooting took place at the town's middle school, those same people began to change their minds. The event involved a sixth grader from a higher income middle-class family who shot five of his classmates in school after removing a gun he had hidden in his backpack.
Out of Petree's experiences, including 25 years in crisis management and influenced by appearances across the US, came Why Are Our Kids Killing Kids?, a self-published book available through amazon.com currently for $14.95. But Petree, now the critical incident officer for the Muskogee County Sheriff's Office, never really answers that question. Perhaps no one ever will fully fathom the causes. He is dedicated, however, to his approach in searching for answers and helping students and teachers, by enlisting webs of trained professionals of all kinds.
Petree, who did garner a spot on the Bob Grant Show (WABC-AM 77) last August, offers ideas that are simple and sensible: develop a plan in advance, have a network of professionals from ministers to school counselors to mental health professionals to law enforcement personnel ready to act in concert when needed--trained to see possible warning signs or trouble spots. The book's somewhat shallow writing style and annoying lapses into boldface type will never win any literary prizes, but it is worth adding to the unfortunately growing body of literature in school crisis prevention.
He offers advice on school security, strategic planning, and parental involvement. A reader might consider Petree's ministerial background that leads him to some preaching through quotes from the Bible better suited to an inspirational book than to a counseling/education volume. The references to possible root causes of school violence, from drug abuse to sex to gambling, may seem unsatisfying and shallow. But their mention in the small book does emphasize that the issues must be considered, not just punishment after the fact or placement of security gates at school front doors.
The book would have been enriched and personalized by stories of more real people, in real situations, and how students and administrators are learning to cope with the new school environment. A separate chapter, or bibliography, would have been useful. Countless education organizations, including the American Association of School Administrators, National Education Association, American Federation of Teachers, National School Boards Association, American School Counselors Association, and national elementary and secondary school principals, plus law enforcement leaders, have studies, reports and web sites that have grappled with the issue. Those resources might have been mentioned. References to sample state, local or school board policies which others might adopt also might have been helpful.
Petree makes clear his conviction that there must be places for students, parents and educators to go for help, and that planning, training and individual responsibility are more important than playing the blame game after the fact.
We should listen to people like Petree. More importantly, we must listen--really listen--to the kids.
Our book review editor Jack L. Kennedy has written about education issues for decades in the Wichita Eagle, Lincoln Journal, New York Times, London Times, Chronicle of Higher Education, Executive Educator, Education USA and Education Week, among other publications. A former high school, junior high and university teacher, he has been president of the international Education Writers Association, and recently developed a crisis reaction plan distributed internationally by Tau Kappa Epsilon Fraternity