Novelist captures the spirit of the Ozarks
October 30, 2007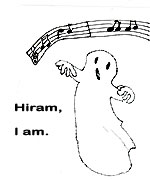 Ever meet a real, live ghost? That may seem like a chilling contradiction in terms until you read Fiddler's Ghost (Wildstone Media, 2007) by well-known Ozark folklorist Mitch Jayne. Jayne is a story of his own. In the tradition of famed writers-storytellers Vance Randolph and Mae Kennedy McCord, he keeps alive the spirit of the Ozarks, its roots and its uniqueness. He once led the bluegrass group The Dillards, has performed on the Andy Griffith show, and written several books, some of which turned into movies.
Those were real experiences, born of his love for the Ozark mountains and its people. Then along came Hiram who is.....well, after you read the book you can make up your own mind whether the phantom fiddler is all ether or more real than one might imagine.
It almost seems too disloyal to Hiram to give away many details of the tale. After all, he will materialize when he wants to, when the reader really feels his presence. But some background is necessary, for modern mortals who might be skeptics. Steve Clark, a recent University of Missouri graduate, and his pregnant wife Lacy, a very understanding lady, head for a one-room schoolhouse and an ancient, abandoned farmhouse. For a while, Hiram seems like the traditional apparition--all noise and no show, until he begins to reveal his Civil War era self with some regularity. He becomes part of the family, down to sitting around the hearth smoking a pipe the Clarks supplied and playing his long-hidden prize violin.
Of course, being a musical ghost or a young first-year country schoolteacher in the Ozarks in the 1950s is not an easy task. Jayne also gives the reader some language lessons along the way, squeezing in his/teacher Clark's translations of the local lexicon as he gets to know his young students and their parents. One family, known not so affectionately as The Trolls, would confound any cultural-educational experts, but the young pedagogue learns how to deal with them. Preacher Tucker is another intriguing character, who like the now-you-see-me, now-you-don't Hiram, is not quite what he appears to be.
As the reader explores the book, Hiram becomes increasingly real. The setting is beautifully drawn, and Jayne expertly walks a thin literary line between science fiction/fantasy and reality. He even convinces the country school board, after being challenged by Preacher Tucker, that "Uncle Hiram" exists and is not a threat, as the ghost tries to bring the joys of music and the outside world to the children of the Ozark Mountains.
Somehow, Jayne makes it all work with a rare charm, a touch of humor and feeling. It seems natural that the Clarks have conversations with Hiram with increasing regularity; the reader may even forget that on some level, Hiram is not supposed to exist for sane, rational people. But he does.
At times, it seems like Hiram and his music become more real as the Clarks and the community develop greater faith and trust in him. The book (and Uncle Hiram) can raise all sorts of questions, about religion, the need to revere and preserve the language, the value of history's lessons, the uniqueness and toughness of the people, the definition of reality and the importance of caring about someone, something.
Or, you can just read the dang book as a good piecea writin' which will keep you entertained, engaged---and wondering.
Review by Jack Kennedy
Our book review editor Jack L. Kennedy has written about education issues for decades in the Wichita Eagle, Lincoln Journal, New York Times, London Times, Chronicle of Higher Education, Executive Educator, Education USA and Education Week, among other publications. A former high school, junior high and university teacher, he has been president of the international Education Writers Association, recently developed a crisis reaction plan distributed internationally by Tau Kappa Epsilon Fraternity, and currently works one-on-one with writers.