Selections from small publishing houses
February 04, 2008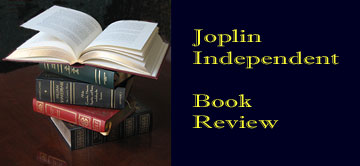 Reviews by Jack Kennedy
It is never the wrong time to pick up a good book, if you can find one. The current bibliographic buffet includes a variety of morsels, some tasty, some tantalizing but needing more spice, others hard to swallow. You may find something that suits your taste.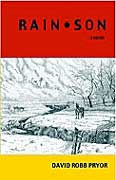 The most promising is Rain*Son by David Robb Pryor (Yellow Crane Press). It is billed as a novel, the story of a former forest ranger and tender of horses who leaves the high desert of Arizona for a Missouri horse farm. But it may be inaccurate to call it a western or romance novel. At times it reads more like a well-crafted extended essay, particularly in the prologue and epilogue. Pryor's language can be poetic in those two segments, which set up and conclude his search for self, understanding, reassurance and a bit of romance. Pryor, a Joplin native who returned to the area after time with the U. S. Forest Service, shows his skill with language, mood and detail throughout the book.
A Missouri horse ranch is not exactly the wild, open range, but the closeness to the land, the openness, the spirit, the sense of possibility, even a bit of jealousy, are there. At times, the volume gives the reader a revealing and somewhat nostalgic look at rural America, visually and emotionally. There are a few mechanical problems, tangled grammar along the way waiting to be roped in by a good proofreader. But as Daniel Perkins, who has spent his life fighting wildfires, settles into a different life in Missouri, he also finds Audrey. (You knew there had to be an Audrey to help him, right?) Pryor's attention to detail helps weave an often bittersweet and twisted personal tale, as he and Audrey share and strain to see what is over the horizon.
Pick an emotion. You will find it in this book without soap opera sweetness--and will enjoy the hunt. Hopefully, Pryor will get right back on his horse and write more.
---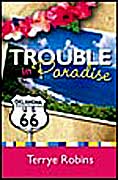 Then there is Trouble in Paradise by Terrye Robins (Tate Publishing), a different sort of detective/discovery story that will make you want to do background checks on your neighbors, and watch your pet canines closely.
Allison Kane is an Oklahoma schoolteacher who appears to lead a rather comfortable life in the small town of Paradise. She is (or would like to be) slightly reminiscent of Angela Lansbury in the "Murder She Wrote" television series.. The old geezer next door is a control freak who hates her dogs, and has a mysterious, menacing air about him. You may know someone like that. Allison loves her family and her teaching---and her food. Detail and observation are good ingredients in any well-written book. The specific brand name of the cereal she eats and the depth of description given to her meal preparations may make you hungry--for dinner, not for the conclusion of the book, however. Too much detail can spoil the broth.
While her dogs are digging up more body parts (bloody fingers, etc.) in the yard and the old boy is getting more threatening and her police force relatives are investigating a murder in which he may be involved, Allison decides to take a job-hunting trip to Hawaii. Hey, the reader may need a break from the book, too. The trip and the fact that she gets stuck in an airplane restroom in mid-flight may not advance plot or characterization, but the onboard root beer and peanuts apparently were tasty.
Allison does return to the beauties of Okie land, the Neighbor From Hell mystery is solved, and she captures the job in Hawaii. While many of the characters may seem remote and thinly drawn, the final chapter is frightening and should serve as a warning about those "nice folks next door."
---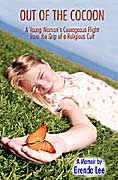 The final possible read is entitled Out of the Cocoon: A Young Woman's Courageous Flight from the Grip of a Religious Cult, a Memoir by Brenda Lee." (Robert D. Reed)
There are many troubling, well-documented tales of persons who find themselve in a definable cult atmosphere, struggle to leave it, then must learn to cope with its emotional and physical aftermath. This book, however well-meaning, seems to be more of a bitter, personal attack on the Jehovah's Witnesses group than it is a balanced, researched, multi-dimensional tale that would help others recognize and react to cults as a whole. Add the hurdle of occasional bold-faced words, and you have a good topic gone astray.
The author's fear is felt, and her family background's contribution to her situation is evident. Her indoctrination and insecurities as a small girl are clear. But few figures in the book are fully drawn, and it often reads more like a personal trail of pain than a compelling roadmap out of the despair others might feel in a similar situation.
The book may make some readers want to seek out more on the topic, or to consult some of the agencies with which the author is associated that help present or former cult members.