All you want to know about Missouri trolleys
March 07, 2008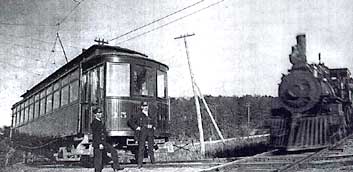 An early newspaper clipping shows conductors standing at a dangerous crossing where two rail lines intersected. An interesting book for the lover of trolleys--and not of Aaron Buerge's restaurants or of the converted bus seen around Joplin--is one that thoroughly records the history of Missouri's streetcars. When Missouri Took the Trolley (Archway Publishing, 2007) by Andrew D. Young, archivist and urban historian, catalogs the years when trolleys were an integral part of Missouri life, trolleys that were relatively inexpensive and made frequent transport possible for the first time. Ron Mosbaugh of Carthage is one of many people acknowledged by the author for his contribution to this book that took almost 10 years in the making.
Book review by Jack L. Kennedy
There was a time when it was simple to determine what defined a city. There was no haggling over what constituted a "standard metropolitan statistical area" or "metropolitan area."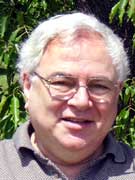 In the 19th and early 20th centuries, the most modest outpost of civilization knew it had made it if it had an opera house, at least one church, and a trolley line or "interurban system" or street railway. Reliving that time is sheer fun, with abundant photographic eye candy thrown in, through the reading of When Missouri Took the Trolley (Archway Publishing)by Andrew D. Young, pictured at left.
Of course, it is a very moving story--of how to move the frontier, move a culture forward, and shift gears from one century to another. The romance of the rails has long fascinated many people, but the stories told are most often of how the big roads help tame the West. Seldom do we get, in such detail and with fascinating pictures of equipment and environment, the story of transportation to the new coal or lead and zinc mines throughout southwest Missouri and southeast Kansas, for example, or down the still-muddy streets of future "big cities" like St. Louis and Kansas City.
This large-size volume can be read on many levels. The train transportation historian will love its tales of how trolleys or other forms of steel rail transportation helped towns establish themselves and grow. There is abundant information about the specific types of cars used and the routes covered.
But the book is much more than a chronological accounting of what towns had streetcars of some type. The tracks take the reader through the hopes and dreams and early boosters' boasts about their would-be cities. It is certainly easy to follow, with separate chapters alphabetically from Ava to Warrensburg, with introductory chapters that neatly set the physical and sociological scene. The streetcar's role is almost forgotten, the St. Louis-area author maintains, and collecting accurate information was often difficult. But Young blends detail with lots of color and care as his story rolls on.
The Joplin-Pittsburg section (Carthage has a separate chapter) talks of the Joplin Street Car Company founded by local pioneer John B. Sergeant with money from his lead-zinc mining interests. One of the largest and best-remembered lines was the Southwest Missouri Electric Railway and its successors, created about 1890 by Alfred H. Rogers, the Joplin Globe founder, and E.Z. Wallower, eastern capitalist turned Joplinite upon whose land Missouri Southern State University sits. The line or its comrades wove their way through the burgeoning lead, zinc and coal area to Pittsburg, creating a rail web until about 1935, when Wallower saw the end of an era and drove the last trolley with the advent of the first motorized Joplin bus.
The chapters on Springfield and Kansas City street rail development are extensive. The rolling stock on Twelfth Street in KC even inspired a poem, the book notes. The cars often got mixed into Boss Pendergast politics somehow, but in those days, what didn't?
One forgotten phase of the urban growth-trolley era is the animal car. Young notes, for example, that St. Louis had "animal cars" pulling people around in 1838--"horse busses," they were called. Young's pictures of cars show interiors from fancy to bare-bones; his data on routes is extensive. Some cities, he notes, even made unsuccessful attempts to have ambulance cars, or "relief on the rails." Few of this area's small towns were left unserved by what was the "lifeline to Joplin."
In time, of course, roadways got out of the mud into pavement, motorcars came and trolleys died. But if you still long to see one, hear one, and ride one--hey, San Francisco's beloved cable cars are still there.
---

Title - When Missouri Took the Trolley
Author - Andrew D. Young
Publisher - Archway Publishing ; first edition (April 6, 2007)/224 pp./$54.95 (available at amazon.com)
Perfect paperback - # ISBN-10: 0964727951 # ISBN-13: 978-0964727953
---
Jack L. Kennedy has written about education issues for decades in the Wichita Eagle, Lincoln Journal, New York Times, London Times, Chronicle of Higher Education, Executive Educator, Education USA and Education Week, among other publications. A former high school, junior high and university teacher, he has been president of the international Education Writers Association, recently developed a crisis reaction plan distributed internationally by Tau Kappa Epsilon Fraternity, and currently works one-on-one with writers.