Inspirational books for gift-giving
April 11, 2008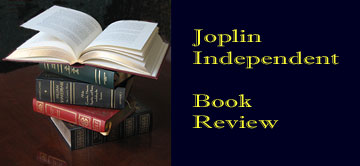 Reviews by Jack L. Kennedy
It is often difficult to find the right words, written or oral, when you are under stress or need to comfort others.
Two authors of recent inspirational books have done that, however, with sensitivity and often with a touch of humor. In both cases, they blend real-life touches into their writing.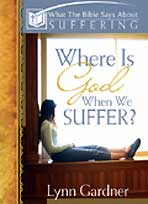 Lynn Gardner has breen a professor and dean at Ozark Christian College in Joplin. His book from College Press, "Where is God When We Suffer?" notes that he lost a son in his 30s in an auto accident and both he and his wife, a Joplin Public Library staff member, were diagnosed with serious illnesses. One does not need to share all of the fine points of their interpretation of various Bible passages to recognize that the book is born out of much pain, but a need to help others.
There are relevant helpful references to scripture and several commonsense, humorous suggestions. "Has the fizz gone out of the Pepsi of your life?" Gardner asks at one point. His answer for re-carbonation? Find your center, find your soul, find your spirit and respect for God.
Having heard many kind if sometimes misplaced comments over the past few years, one chapter toward the close lists several things not to say in times of crisis, however well-intentioned; things like "I know just how you feel," or "It was for the best." In the following chapter, Gardner suggests that sympathetic souls listen, really listen, with empathy. Supporters must be aware that people deal with problems in different ways, he adds, and there are no panaceas. "We cannot wave s magic wand and make pain and suffering go away," he writes.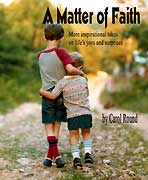 Another road to support is taken by Carol Round. She is a retired Jay High School journalism teacher residing in Claremore, OK who has written local newspaper columns for years. Her immensely popular book, "A Matter of Faith" (Creative Expressions, Claremore), is filled with what it calls "inspirational takes on life's joys and surprises." Its approach is similar to that of Forward Day by Day, The Upper Room, or other inspirational guides.
Each offering has a relevant, recent, everyday-life springboard. "News Matters More Than Ever," for example, tells of when she saw that line on a billboard. A lot of the daily news is disturbing, Round notes, and no one is immune to disasters or war. "We can't drive away from the bad news," she says, but we can recognize good news, goodness in others, hope, faith and other supports in life.
Another piece, "A Direct Line to God," suggests we expect too much too soon. Round wonders how it would sound if modern telephony and offputting technology were married to theology. Want to call for help? Press 1 for a prayer request and later Press 4 to speak to a customer service representative--but hey, God is busy, so the wait may be a decade. Other contributions in the thin book are equally toucing and humorous, and require no commitment to a particular theological style to enjoy.
Our words do not have to be perfect, the two authors say with considerable sensitivity---but we all need to take time to show others we care, and have faith.
Gardner's book may be ordered here. Go to A Place of Grace in Claremore to find Round's book or for ordering instructions send an e-mail here.
---
Our book review editor Jack L. Kennedy has written about education issues for decades in the Wichita Eagle, Lincoln Journal, New York Times, London Times, Chronicle of Higher Education, Executive Educator, Education USA and Education Week, among other publications. A former high school, junior high and university teacher, he has been president of the international Education Writers Association, recently developed a crisis reaction plan distributed internationally by Tau Kappa Epsilon Fraternity, and currently works one-on-one with writers.