The joy of communicating with horses
June 30, 2008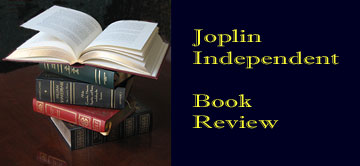 Review by Jack L. Kennedy
Several years ago, a little girl growing up with her big brothers in a farm town suburb of Kansas City met a horse.
She would tell stories of the part-Arabian, part Shetland for years. How he used to be an entertainer of children in the big city. How her horse knew that one neighbor girl was suitable for bucking off his otherwise hospitable back. There were many tales of how much the fortunate horse named Lucky loved the fortunate little girl that rode him.
This lover of horses is my wife Dorothy Joann. She is the kind of person to whom Joe Camp has dedicated his new book.
As a young girl she would not know this author-trainer. He did not come along until years later after creating Benji, the beloved canine of movie and book fame. But Dorothy Joann and Joe share a love for horses and what horses teach us, while we other humans only think we are teaching them.
To say too much about Camp's compelling book The Soul of a Horse: Life Lessons from the Herd (Crown Publishing) would be to spoil much of the beauty and simplicity of the story. It is about how to train horses, and love and care for them. That's what the imprint from Harmony Books claims. But that kind of summary, based upon the main title, is deceptive.
Yes, this is a warm, cleanly-written and simply but powerfully-drawn book about how to understand and raise horses. But it is so much more that it deserves a voyage of discovery when the reader has plenty of time to ponder how things fit together, how we learn, why we do what we do, and how much caring and patience outweigh discipline and over-direction.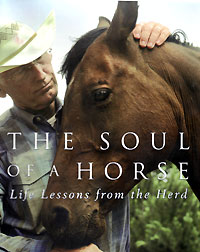 Camp provides a central clue in a simple paragraph that begins the book: "Often, in the evening," he says, "when the stresses of the day are weighing heavy, I pack it in and head out to the pasture. I'll sit on my favorite rock, or just stand, with my shoulders slumped, head down, and wait. It's never long before I feel the magical tickle of whiskers against my neck, the elixir of warm breath across my ear, a restoring rub against my cheek. I have spoken their language and they have responded. And my problems have vanished. This book is for everyone who has never experienced this miracle."
He unfolds his love affair with horses gradually, telling how he and his wife Kathleen took in their first equine friend, then another, then another. The bulk of the book deals with what he learned and how transferable it is to humans, if we will listen: teaching and training with love, patience, understanding of individual worth, an absence of fear, an appreciation of different environments, a willingness to try and try again. Each animal is an experience, and the Camps learn something from them all.
There are many lessons in the book, no matter what kind of herd you happen to be a part of and being a herd member does not mean you (oops, the horses) must lose all of your individuality.
The tightly-written, simply-designed chapters often read like short stories that flow from the heart, not just from the corral. Along the trail the reader learns that barriers can be good things, even instructive; that not all creatures learn the same way; that affection gets better results than dictation. Chapters that deal with mistreatment and the unnecessary use of horseshoes also have a human connection.
Unfortunately, Dorothy Joann did not have Camp's book to study when she first mounted Lucky years ago, yet like the relationships described by Camp, she and Lucky learned to understand each other and operate as an affectionate unit.
That's not a bad lesson or two for anyone in the herd.
---

Title - The Soul of a Horse: Life Lessons from the Herd
Author - Joe Camp
Publisher - Harmony Books/238 pp./first ed. (4-29-08)/$24.95 - $16.47 at amazon.com (also available as a Kindle edition on amazon.com for $9.99)
ISBN: 978-0-307-40685-9

---
Our book review editor Jack L. Kennedy has written about education issues for decades in the Wichita Eagle, Lincoln Journal, New York Times, London Times, Chronicle of Higher Education, Executive Educator, Education USA and Education Week, among other publications. A former high school, junior high and university teacher, he has been president of the international Education Writers Association, recently developed a crisis reaction plan distributed internationally by Tau Kappa Epsilon Fraternity, and currently works one-on-one with writers.