Baxter's heyday captured by Joplin author
November 20, 2009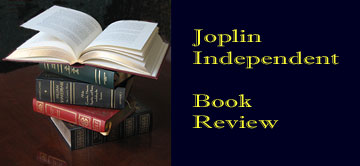 by Jack L. Kennedy
Some older cowhands along this Internet trail will recall the early Saturday cowboy shoot-'em-up movies at the Fox, Paramount or even the odoriferous Orpheum theaters.
Newer weekend morning television watchers still are able to spot an occasional buckaroo heading out over the winding prairie in search of female buckaroos or bad guys.
Such are the nostalgic western images conjured up by author Larry Wood of Joplin in his compact tale entitled Showdown at Baxter Springs, a product of Treble Heart Books' Sundowners division. It is well designed for those who love tales of the Old West or the way we romanticize the Old West into being. Think of it as a lively grade B western in print, with copious flaws and unlikely events, but fitting nicely into the genre.
There are scary and smelly events on the long stage trip, 50 miles or so from Ft. Scott to the new cow town of Baxter Springs, circa 1869. That junket undoubtedly built trust, understanding and deodorant.
Then there's the "purty" new schoolmarm, coming from the East (anywhere east of St. Louis) to properly instruct the "kiddies" on the frontier. And there's the marshal, who would make John Wayne or Johnny Mack Brown happy, as he courts and convinces the schoolmarm that he is not such a bad fellow after all, even just taking one bath a week.
Of course the western thriller must include a big bad guy, as in tall and important; a band of bad guy's followers; a hanging or two; a prisoner the marshal has to track down; a few commercial alcoholic beverage dispensaries on Military Avenue in Baxter purely to aid the proper socialization of visiting cowhands and some female companionship for said visitors at a price. The book also requires the addition of cow men or older settlers who do not like the rowdies or understand their types of entertainment and need to express their sensibilities by firing shots at anything in sight.
Chief among the protagonists is a man named Darling who (a) has a funny frontier name, so he (b) does not like it and kills another guy, taking his more acceptable moniker. In his new role he works for the railroad, dupes cattlemen, courts the schoolmarm for a while, and wears a fancy outfit topped by a big stovepipe hat. A guy like that has to be a bad guy and he comes to a bad end. But, of course, the marshal gets the girl. And there are touching references to the marshal's attachment to Wades in the Creek, his native aide whose death plays an important role in the tidy tale.
Wood is a retired teacher who has written for local and regional publications. His fiction and nonfiction interest has been mainly in the West, and he researched some of the novel at the Baxter Springs Museum and elsewhere nearby. Many folks, particularly newcomers to the area, are, perhaps, unaware of Baxter's cow town legacy and the Military Road's significance.
A classic bit of dialog reminiscent of old oater movies erupts when the illiterate but learning marshal (the schoolmarm motivates him) proposes to the gal. He says, "I don't hardly know how to say this, but I was wondering if a beautiful lady like you, educated and all, might see her way clear to have a small-town marshal like me that can't even read and write proper."
'Want to guess her reply in the final "reel"?
The book may be purchased locally from Always Buying Books, 5357 N. Main St., Joplin or at the Baxter Springs Museum.
---
Title - Showdown at Baxter Springs
Author - Larry Wood
Publisher - Treble Heart Books/Sundowners; (Aug. 27, 2009)
217pp.
ISBN-10: 1936127016
ISBN-13: 978-1936127016

---