Greg Dobbs takes us to the wrong lane
January 16, 2010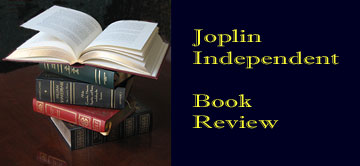 by Jack L. Kennedy
The term "foreign correspondent" for many conjures up the image of someone buckling their swash and charging bravely into battle to prove that the pen is mightier than the sword.
Or think of Harrison Ford in the many Indiana Jones movies. He looked cool, always said and did the right thing eventually, and wiggled out of impossible situations. And he wore a pith helmet well.
Greg Dobbs is not that sort of a guy, but he is a risk-taker who has been in strange places at the wrong time, from Wounded Knee, South Dakota to Yemen. His book title refers to his career as Life in the Wrong Lane: Why Journalists Go In When Everyone Else Wants Out (Rising Star/iUniverse Inc.). If you think media folks take no risks, get paid way too much at the network big market levels, and are surrounded by glamor, not work, then this little volume may change a few notions of what it is like to be the hand overseas. During Dobbs' time before the advent of extensive Internet communication, Dobbs could finagle getting the news in unfriendly countries but he had much difficulty and added risk getting the news out.
Dobbs worked at ABC News for 23 years when much of that time it was a poor cousin to to the other networks. His travels as correspondent or producer have taken him to a variety of spots overseas for almost half his career.
His approach to the book's table of contents is an early clue to the literate and revealing yet often unconventional way in which he approaches an adventurer's tale. Chapters are titled: "The Night I Surrendered to a Cow" in Wounded Knee, "Excuse Me, Do You Speak English?" and "How Would I Like To Do What?"--plus other tantalizing entries.
Dobbs' preface sets the stage for a different drama as he says, "life in the wrong lane [is] where journalists live, in the one headed toward a catastrophe. Everyone who's normal is in the other lane, any other lane, going the other way. They're getting out." He claims that the volume is not a travel guide or political tome, but "it's about all the funny, funky, scary, stupid, dangerous, distasteful, unwise and unbelievable" things a traveling hot spot-ready journalist can encounter in his lifetime.
To reveal much more of the specifics would be to rob the armchair traveler of much fun and information. The Yemen chapter, for instance, was written long before the current concern about training terrorists there. The segment on Iran covers the Shah, a princely despot, long before the present regime took over. Both chapters are fascinating background to today and, perhaps, preface to tomorrow.
History and hysteria merge in the Wounded Knee chapter as the tale unfolds of the political birth of Native American activism and why ABC News crews never again will be able to rent a car in nearby Chadron, NE. on the edge of the embattled reservation (...the car was shot up). The book underscores the need to continue to be aware that the battles he and others fought there are not yet over and, perhaps, never will be.
The superintendent of the Chadron schools, for example, told another reporter years after Dobbs left the area that he had no idea how many native Americans there were in his school system and that they had no special awareness/history programs for them, even thought the dullest Anglo among us could spot names like "Standing Bear" and "Running Deer" in the Chadron phone book. Add them to the less obvious native American names and you might have a population that needs help and respect.
Perhaps, Wounded Knee past and present is a clue to what makes the book not just another adventure tale or tell-all book (although the lines about the fall of the USSR and rise of Geraldo are priceless). Dobbs could have done an engaging, but rather ordinary, self-praising yarn about his world travels, his name dropping or the occasional arrogance of the media. He did not choose to do so. Instead he presents an amusing glimpse of the non-glamorous grunt work that the job takes, the small risks and larger ones that set the scene in viewers' homes nightly.
"Wrong Lane" is an often sensitive, thoroughly caring, multi-sided look at local folks, not just big events. For instance, Dobbs' careful touch makes this reviewer recall when the Wichita Eagle's Forest Hintz, in his 50s with a wife and small child, volunteered to go to Vietnam. For several months Hintz covered night fire fights on a country road because he thought people should know how an ordinary Kansas soldier was put in hell.
Another Dobbs book, no doubt of merit, is about how to write broadcast news. He shows that a reporter must be a good teacher, speaking from the heart, not just experience.
Dobbs final paragraph says a great deal about the man, the writer, and his passion for his career:
"...So sometimes, the things we take for granted are hard to achieve because of backward conditions where we're working. And sometimes, they're because of backwardness at home."
---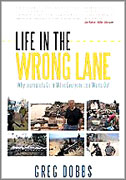 Title - Life in the Wrong Lane
Author - Greg Dobbs
Publisher - iUniverse; (Oct. 13, 2009)
240pp.
$18.68 at amazon.com
ISBN-10: 1440152748
ISBN-13: 978-1440152740

---