Friend pays homage to Vern Miller, Kansas lawman
February 21, 2010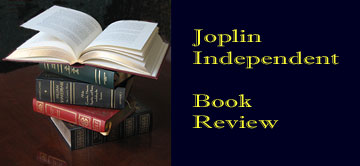 by Jack L. Kennedy
Vern Miller was a character.
To author and apparently good friend Mike Danford, he was Vern Miller: Legendary Kansas Lawman (iUniverse, 2009). To a substantial number of the Kansas residents and journalists who knew or had to work with him, he was part showman, part egotist, part fighter of hypocrisy. He certainly was a man of many talents and aspirations.
Danford's book often appears more like a long scrapbook of faded old crime story clips from back issues of The Wichita Eagle-Beacon than it does a conventional, chronological and analytical life story of the law enforcement/motorcycle rider who rose from street cop to Sedgwick County sheriff to Kansas attorney general (1971-75). But what Danford may lack in editing skills, writing skills or balance he more than makes up for in enthusiasm. The tiny volume is worth reading for the twists and turns the author chronicles of Miller's life and reputation.
"Legendary?" If that word means "egocentric country boy on the way up," then Miller fits the bill. But he also was a constant fighter of hypocrisy, at a time in the 60s when this nation and Kansas faced drug problems, campus unrest and unrealistic drug laws and people who often seemed to feel that the laws were meant for others, not for them.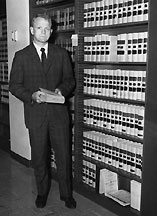 Vern Miller who followed the letter of the law served two terms as Kansas State Attorney General. He was a graduate of Oklahoma City University Law School. (Photo thanks to the Kansas Historical Society)
"Nothing breeds disrespect for the law," Miller once wrote soon after going to Topeka, "more than a double standard in enforcement." Being a Miller promoter rather than an unbiased, thorough reporter/author, the admiring Danford talks of the affection and esteem all local news media had for the new sheriff in town. But the author's literary gushing fails to recall those journalists who knew Miller and considered him, perhaps, a well-meaning but self-promoting actor on a stage of his own making using his own script.
Danford tells how Miller was a great role model when defining persistence, spending hours on the road traveling to an out of state law school to get his degree, or going after phony "bottle clubs" that allowed liquor in fancy downtown hotels for a price. He also did not hesitate boarding an Amtrak train passing through the state to halt their selling of spirits.
(As an aside, the author didn't mention this but Steve Marshall of Pittsburg, a Kansas Highway Patrol member at the time, recalled that Miller issued an order that liquor was not to be served on flights going over the state--a bit hard to enforce without a Kansas Air Force to bring down violators. It was another example of Miller making his point--either enforce the law fairly or eliminate or change it.)
The multi-faceted Miller also was famous for the boys' boxing club he formed to help kids stay out of trouble. As Danford notes, "the club was a stable entity from 1958 until he took office as attorney general in 1970 [sic]" and moved to Topeka. (Marshall said that Miller was known also for dropping to the downtown Wichita sidewalk for a few quick push-ups on his way to or from the courthouse. Proper pecs beat pesky paperwork any time.)
Many did not know what to make of him when the night-school-trained lawyer hit the statehouse. He immediately dug up old cases, reviewed them and acted upon them. He took on protesters and pot pushers and politicians with equal vigor, if not always with finesse. "Drugs are public enemy No. One," he declared.
Danford leaves the impression that all college students at the time were naive potheads and all university officials, like embattled University of Kansas Chancellor Larry Chalmers, were anti-law enforcement. The author is taken to making simplistic judgments and sweeping statements throughout the book, but, nevertheless, they are often fun to read.
After spells as deputy, sheriff, Kansas attorney general, law student and boxing coach, Miller was Sedgwick County's prosecuting attorney and a lawyer in private practice involved with memorable cases.
Danford touches on many of Miller's "lives" and motivations and personalities. Vern is after all readable and colorful. Hopefully, Danford, the one-time rural Texas cattleman, will share his success with The Wichita Beacon crime reporter Bernie Ward for Ward's hand in writing his version of the Vern Miller saga.
---

Title - Vern Miller: Legendary Kansas Lawman
Author - Mike Danford
Publisher - iUniverse; (Oct. 02, 2009)
172 pp.
$14.35 at amazon.com
ISBN-10: 1440171807
ISBN-13: 978-1440171802

---