Be scared to death..or at least fascinated
June 25, 2010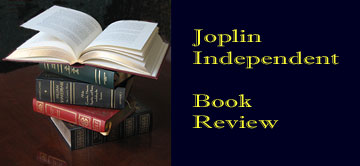 by Jack L. Kennedy
Some writers are frightening.
But in Beth Cooper's case, that is a recommendation, not a criticism. Her Ghosts of Kansas (Schiffer) is an excellent volume to take to heart on a sticky summer day. Or, perhaps, it will inspire you to head across the state in search of strange events, funny objects, unexpected movement or other unexplained but fascinating findings.
The contents are diverse, the related photos often startling, the questions left endless. How much of the tale of terror or surprise or history built into every tale has an element of truth? How much came from a suggestible, if shaken, amateur historian eons ago?
Who cares? The chapters tied to different cities, different times, past and present, are tightly crafted and entertaining. You may have been to one of the haunted houses or shaken sites yourself and not known it.
That is the case, for example, with this reviewer and the Jayhawk Hotel and its theater, longtime Topeka landmarks. One might expect to find the ghosts of ancient legislators there. That is natural for the building often called the unofficial capitol of the state, a frequent watering hole and movie palace and sleeping spot for the political pretenders and the famous. But Cooper, a native Kansan raised in North Topeka, shows us another side of the site-- as she scares us with non-political stories.
Cooper takes us through the history of the state in the compact but enticing volume. She leads us on a tour (something she also does in person and on a website) of old schools, former orphanages, cemeteries, cafes and other haunts. The author notes that she and her sister Cathy Ramirez started Ghost Tours of Kansas five years or so ago, to share stories about Topeka. The tours have expanded into her subsequent trips around the state. There are vibrations still around the Lawrence site of Quantrill's raid, contraband, prostitution, things that go bump in the night or move when one does not expect them to, a haunted fraternity house in Manhattan, books that move by themselves in libraries...the book's list is a good menu.
Do not miss the large, attractive Wyandotte High School in the Kansas City area, where ancient actors and deceased workmen share the stage in the auditorium. (Ed Asner, an alumnus, was not scared away from the profession, however.)
The Cooper volume is as much a tour of various sites and different locales, of history past and relatively recent, as it is a paranormal panorama. So whatever you think of ghosts, or those who hunt them, or whether a trash can lid was lifted by the spirit of Aunt Mabel in 1864 or the winds of yesterday, the book is well worth pondering and its photos are a part of the journey. One suspects that the tome might inspire others to offer their local fright focus, to suggest new places for Cooper to write about. In that case, of course, ghosts would bring business for the Chamber of Commerce, not push them away. There might even be some haunted newspapers or radio stations discovered in the state.
We won't say that something strange will happen to you if you do not read Ghosts of Kansas, but--who knows?

Title - Ghosts of Kansas
Author - Beth Cooper
Publisher - Schiffer Publishing, Ltd.; (April 28, 2010)
160 pp.
$11.69 at amazon.com
ISBN-10: 0764333909
ISBN-13: 978-0764333903

---