Inner strength is depicted in two different ways
January 08, 2011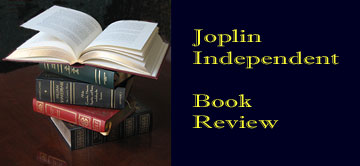 by Jack L. Kennedy
The best New Year's resolution anyone may make: sit down and read a book...thoughtfully....peacefully.
Research proves (well, mine anyway) that regular, deliberate, varied and open-minded book reading leads to (and these may seem a bit redundant) peace of mind, balance, serenity, contentment and development of the cranium.
Scanning the word in print for edification or entertainment also helps anyone avoid endless hours with Dr. Phil, Dr. Oz, "The Doctors," Oprah or other less meaningful if well-intentioned folks on the box tied to a remote. Of course, if you do feel the need for reassurance, psychological or parental support if not doctoring, you can always pull out and take time to meditate upon one of the new crop of helpful volumes. Books have been companions and good therapy for thousands of years, long before the TV tried to tell us how to think.
One such inspiring offering is A Rose for My Mother by Nancy Lee Canfield (iUniverse Inc.) It is a good example of why one should look beyond the cover (or hype from the publicist) to find reading of merit. The advertising blurbs bill her as a parapsychologist and tell us that the book spells out her route to a life with the paranormal.
If this all sounds a bit too spooky, and it should, look beyond the cover to a story of a tough childhood, life in foster homes and orphanages and searches for finding herself. How do you tell a little girl "you won't be needing your church dress anymore" because she will not be coming back to that house?
The writing style is very open and descriptive. Canfield makes appropriate use of dialogue, movement and setting to help the reader visualize an evolving and changing, if hurting and searching, person. Canfield as a youngster or young adult often felt betrayed and had low self-esteem. But even though eventual husband Joe offered little or no support, she managed to raise successful and rather emotionally healthy offspring.
The real vision of the little volume is not in how it sets the reader up to believe in parapsychology, but the view that it gives us of Canfield's own inner strength--her ability to cope and her belief in herself and in others. Even if the reader is not a believer in parapsychology and the secret forces around us, the book does make one a believer in the forces within us, the perseverance and self-analysis we all need. The author's self-doubt is overcome by faith, looking ahead rather than back, and taking action. She's not a bad role model for anyone in the new year.
---

Title - A Rose for My Mother
Author-Nancy Lee Canfield
Publisher - iUniverse Inc. (1st ed., June 14, 2010)
300 pp.
$17.12 at amazon.com
ISBN-10: 1450231233
ISBN-13: 978-1450231237

---
+++
Parenting Moment by Moment (Bound by Faith Publishers) is a vastly different approach to support and guidance, but one that also may provide strength. It is subtitled, Training Your Children to Apply Biblical Truth.
The author's approach and purpose are rather forthright. The book is written as a series of daily meditations crafted for various age groups to help them understand biblical teachings (as the author understands them) through parental guidance. Many if not most of the short pieces are at times a somewhat pessimistic, fatalistic, narrow and conservative view of the moral or religious underpinnings parents attempt to give their offspring at various stages of their lives.
At times the author, Carla MacLachlan, may seem to be preaching, not parenting. But, again, the reader should take time to add his or her own views and experiences, and "Parenting," arranged for use by age level, infant through adult, may have nuggets of usefulness, even if the reader/parent does not attempt to tie parental responsibility to a specific Bible book.
In a meditation titled "Seize the Moment," for example, the author notes that most children love a good story. Every moment becomes a teachable moment, everyday happenings can be turned into applications or illustrations of how to cope, how to evaluate and how to be less stressed and more spiritual. Even this working-learning together at home becomes its own lesson.
"That's Not Fair," another offering, observes that there are times when one's child might be unjustly accused of something, even by friends. At such times the child will need continued support and help and faith, MacLachlan says.
Throughout the book, such parenting strengths and common-sense staples as unconditional love, careful evaluation, listening and having hope are recurring themes useful for anyone regardless of denomination. Fit this in with other relationship skills and parents will have another good tool for a happier new year with their offspring.
One common value of these two books is that after readers have taken the time to concentrate on them, rather than, for instance, on searching for another plastic pundit on the Fox Channel, they will have calmed down, thought about someone other than themselves, made evaluations page by page at their own pace-- and prepared themselves to face the day, their kids, problems and the promise of a better tomorrow.
---

Title - Parenting Moment by Moment
Author-Carla MacLachlan
Publisher - Bound by Faith (1st ed., 2010)
351 pp.
$13.60 via amazon.com
ISBN-10: 0982902905
ISBN-13: 978-0982902905

---