Heart-wise cooking is double entendre
December 18, 2011
Food for thought as found in good books is the perfect Christmas present, and will brighten your Festival of Lights without adding a calorie.
This is certainly the case with Mindless Eating, subtitled "Why We Eat More Than We Think" (Bantam).
While he warns often of the dangers of overeating, penetrates ploys that manufacturers use to make us gorge, and is a master at making food lab experiments readable and funny at times, author Brian Wansink has remained relatively thin and good humored. His volume is not a typical "diet book." It is not just about information or shaming corpulent souls into losing poundage. It is a sensible, often humorous, example and specifics-laden route toward losing some of the pounds put on this time of year by too much mince pie, fruitcake, turkey and sweets.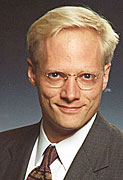 Wansink, shown at left, has strong Midwestern roots. He is an Iowa boy who got his first degree at Wayne State College—the one in Wayne, NE (not the Michigan Wayne State opponent against Pittsburg State University in national D-II football champs). It may have been as a student member of the Nebraska State College board, in fact, where he first formed his aversion to bad food habits, after too many road trips and eating in small towns with allegedly adult board members.
His credentials also include a master's from Drake in Des Moines and a Ph.D. from Stanford. While currently he is the John Dyson Endowed Chair in the Applied Economics and Management Department and director of the Cornell University Food and Brand Laboratory, in 2007-2009 he served as executive director of the USDA's Center for Nutrition Policy in Washington, DC, as the US "food czar." He has lectured and eaten around the world.
It is a tough job, but someone has to do it before we munch ourselves to death. Someone has to look into the mysteries of eating with care and with wit. So, as an experiment, Wansink and his fellow researchers held several Super Bowl parties for college undergraduates, for example, to see if they would eat any snack put in front of them as long as snack bowls were constantly re-filled. The results were predictable and a reminder of the importance of will power in preventing obesity. The portion size and size of the plate (big plates Look emptier and induce us to eat more) have a major impact on who we are and how much poundage we gain.
Yes, folks, Wansink is a big believer in common sense--simply eating less coupled with exercising, not just counting calories or buying the latest diet plan that pretends to require no work on the part of the participant.
The book also shows how mindlessly we often purchase the biggest available box because we assume there is a bargain in bulk, the box's and ours. Marketing--effective pricing and advertising--are examined, but Wansink warns not simply to "flail" McDonald's for the Happy Meal but instead use parental power to push kids away from constant snacking or caloric intake. Parents are the gatekeepers of what is eaten, he maintains, and should prepare the best foods they can, not just blame others for obesity.
High price is not always the best indicator of value or better taste, the author notes. Drawing upon his experience at Wayne State as a college junior in Nebraska, he admits to getting a liquor store owner to put a pricey label on a bottle of cheap wine, just to impress a date on a picnic. He recalls the sophisticated baker's grandson pouring the vintage carefully into Styrofoam cups, as his date sat in awe of the high price. (Ah, the humble beginnings of a distinguished scientific career.) He could almost taste a life of success, even then.
"Mindless" has endless plates full of good sound science and useful advice...and often debunks myths. All low-fat foods are not equal, Wansink notes, particularly if they lull you into thinking you can eat more, not less.
Oh yes, it is worth noting that the book itself, like its message, is relatively thin—not overfed just for effect. Read it. Digest it. Enjoy it. Have fun and use your head, not just your calorie counter or your scales.
---

Title - Mindless Eating - Why We Eat More Than We Think
Author: Brian Wansink, Ph.D.
Publisher: Bantam; reprint edition (Dec. 28, 2010) 304 pp.
$7.99 (paperback) at amazon.com
ISBN-10: 0345526880 /ISBN-13: 978-0345526885
---
Click here to take the "mindless quiz."
---
Defining "heart-wise" and food a different way
by Mari Winn
Calling attention to the relationship between love and food, between the heart and the palate, restauranteur Jacques E. Haeringer in his book Two for Tonight (Bartleby Press, 2001) has compiled recipes grouped under such enticing chapter headings as "Breakfast in Bed," "Love in the Afternoon" and "After Midnight," to name a few. His intent is to supply the reader with recipes that create a sensuous mood or as his publicist says, "to heat up a relationship."
"The pleasures of the table, fine food and wine, are an essential part of a passionate life," Haeringer writes in his introduction before revealing recipes for "scrambled eggs" (okay with caviar) to quail stuffed with foie gras which he maintains will bring out the "wild streak we all have inside."
Maybe, not all the ingredients are readily available away from areas of sophistication but just reading about them seems to tempt the palate. Anticipation is a catalyst to romance.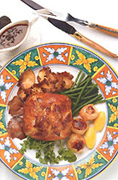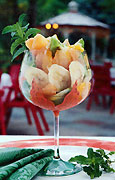 Pictured left is Beef Wellington named after Arthur Wellesley, first duke of Wellington who defeated Napoleon at Waterloo. At L'Auberge Chez Francois this dish is served with roasted shiitake mushrooms and truffle sauce. At right, fruit (oranges, grapefruit, banana and kiwi) are combined with ginger and cane juice and garnished with mint leaves.

Haeringer also stresses that preparing a romantic meal does not infer that it isn't going to be heart healthy. He suggests making it "as wholesome and nourishing as possible."
While he says he tries to use organically grown produce, meat and poultry, he doesn't fault any cook from straying from this choice. He does recommend using pure water, steaming not boiling vegetables, using whole grains and flours, avoiding the use of white sugar, choosing extra virgin olive oil or other cold pressed oils and unprocessed salt like sea salt or mineral salt. One recipe, citrus salad, calling for the use of ginger which he says is credited with "aiding digestion, improving circulation and even protecting against motion sickness" appears as a fitting conclusion to one of his Love in the Afternoon menu selections.
"When you have the choice follow the suggestions" (in the book) but the author says, "if you worry about every bite and every sip, stress will kill you long before cholesterol."
By the way, this obviously is not a book for vegans.
"Despite all the warnings of past decades, we have now returned to our senses and realize that, for most of us, red meat is an essential component of our diets," Haeringer says. "After all, we did not claw our way to the top of the food chain to eat only vegetables." ...oh my, I just spotted the recipe for Beef Wellington with roasted shiittake mushrooms...yum.
No cookbook, especially one dealing with the subject of love, is not complete without recipes using chocolate. Chef Haeringer does not disappoint, especially with his recipe for molten chocolate cake which he prefaces with a little blurb about how the Aztec ruler Montezuma kept his harem of several hundred women happy by "reportedly drinking 50 cups of chocolate daily."
The wonderfully tempting color photographs, easy to follow recipes (including the section on how to make the sauces that go into them) and a bibliography for further reading make "Two for Tonight" a must for any good cook's bookshelf.
---
Title - Two for Tonight - Pure Romance from L'Auberge Chez Francois
Author: Jacques E. Haeringer
Publisher: Bartleby Press (June 2001) 269 pp.
$26.95 or less (hard cover) at amazon.com
ISBN-10: 0910155437 /ISBN-13: 978--0910155434
---
For a link to L'Auberge Chez Francois, the Haeringer family's acclaimed restaurant in Great Falls, VA go here.