Lifting one's spirits in Ireland
March 24, 2012

By Jack L. Kennedy
A sincere appreciation for life and location and people adds more smiles to your miles and makes the journey last a lot longer in both head and heart. That certainly is true as the road twists and turns and hits bumps in A Fierce Local, Memories of my Love Affair with Ireland, by Harvey Gould (iUniverse).
This touching tale goes down a variety of paths. If you choose to read it as a tourist travelogue, do so. It is a caring description of the Irish countryside, pubs, places to dine with friends and history. But it is also the story affectionately told of a Chicago native Jewish trial attorney who marries a fine Roman Catholic lass from New York City, and discovers 12 years ago that his doctors had given him five years to live because of a diagnosis of cancer.

Yes, Gould, pictured, has outlived that gloomy initial prognosis and written a book celebrating hope and adventure of the soul, rather than one documenting his bitterness or cataloging medical mysteries. It offers a well-crafted description of how one really should travel, not just to see the sights and sample savory smells, but to really experience and develop affection for another culture, the real people and places one usually does not see in a tourist brochure.
For 20 years, the Goulds have been visiting Ireland, splitting time often between synagogues and Roman Catholic churches, and living in a small cottage in the country, not a hotel suite in Dublin or another large city. As the years go by and the annual visitors get to know their neighbors, hoist pints with them in pubs, go on hazardous fox hunts or sample enticing edible delights, Harvey earns the affectionate title of "fierce local." He becomes not just some transitory tourist figure but a person who truly enjoys drinking in the culture that includes Guinness and learning the habits and history of the area in which he and his wife have chosen to live at least part time.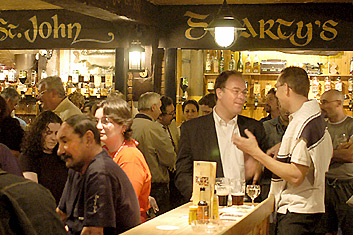 Bar hopping in Ireland at Oliver St. John Fogarty's
Humor, feeling, detail, description, humanity and perception are hallmarks of the book, which is much more than a tale of a man traveling overseas.
Yes, there are some ruts in the roadway; all is not an idyllic panorama of praise for the green Irish sod. While in Ireland, Gould's cancer worsens and a relative dies in New York City during the Sept. 11, 2001 disaster. One chapter is devoted largely to the visit of President George Bush to Ireland in the summer of 2004, an event locals apparently did not welcome too warmly.
In one memorable chapter, Gould does not feel well after a day with his beloved horses. He is rushed to a small, rural Irish hospital for blood transfusions which he says probably saved his life. Armed with that Irish blood now literally in his veins, Gould jokingly writes a government official about his affection, saying he was born a good Jewish boy but the new fluid qualifies him to be an "honorary Irishman."
The bureaucrats apparently had no sense of humor and a bigger sense of red tape, as a mound of correspondence ensued. The story does have a happy ending, as the final chapters attest.
The horse lover and his wife now live in San Francisco. They are well aware that life takes people many places and down different roads--all that must be savored.
---

Title - A Fierce Local, Memories of my Love Affair with Ireland
Author: Harvey Gould
Publisher: iUniverse (Dec. 7, 2011), 324 pp.
$16.16 (paperback)/$3.99 (Kindle) at amazon.com
ISBN-10: 1462033679/ISBN-13: 978-1462033676
---
To get our readers in the mood for the serenity and lushness of the Irish countryside, we ask you to click on any thumbnail to start a slideshow. Photos by Vince Rosati.
For a previously posted article in the JOPLIN INDEPENDENT about Dublin go here.