The ride of your life is a vendetta
July 23, 2012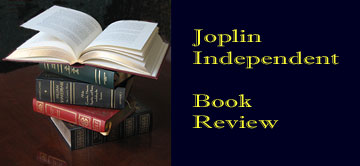 by Jack L. Kennedy
When Mike McDonald's wife was raped and murdered by an outlaw biker gang, the Persian Gulf war Marine veteran set off on a mission.
In Thunder Road by David Donaghe (Black Rose Writing), McDonald vows to eliminate all chapters of the Lost Souls mob on wheels. His passion and persistence take him to Los Angeles, Las Vegas, a backwoods spot in Utah, or wherever the Souls who once had left him for dead happen to be.
---

Author David H. Donaghe lives with his family on the high desert of Southern California. A member of the American Cruisers motorcycle club, he enjoys reading good books as well as writing his own.
He encourages interaction with his readers. Send him an e-mail here: davidhdonaghe@yahoo.com. He also is on Facebook.

---
The book, like its lead character, gets off to a fast start in a hospital, as McDonald slowly and painfully recalls the time when he and his wife Sharon blissfully mounted their set of wheels and took off to see more of the world around them. They shared a love of each other and of the open road.
The detail, sense of setting and rapid movement of both emotions and motorcycles pull the reader in for a fast ride and flaming adventure as the McDonalds' romance unfolds but is cut short as she is brutally attacked and dies. From the Mojave Desert to small taverns in small towns, Thunder Road is fueled by massive macho doses of testosterone and more bullets fired and bad bikers killed than most volumes of 250 pages or so can hold.
Blood and bitterness are strewn everywhere as our Rambo-like hero weeds out his wife's killers. Along the way there are vivid flashbacks, about Sharon, his Marine basic training and time spent fighting drug lords and kidnappers and losing Marine buddies in Colombia.
Travel on Thunder Road expose much pain, and even gets some volunteer law enforcement aid for McDonald's vengeful spree. At one point, as the journey nears its end, a friendly, family-centered, non-criminal and very confident group of riders known as the Green River Boys joins the ex-Marine's crusade.
There are some touching and tender moments too when McDonald wrestles with ghosts from his past military years, or copes with memories of his brief life with his beloved Sharon. Even tough guys are not always what they seem or like outsiders to see.
Author Donaghe dedicates the book to his brother Bill, who died in 2006 after a motorcycle crash. "My brother's death punched a hole in my heart," he says.
Under the unrelenting violence and shooting is a current of caring and persistence that should attract a variety of readers of various ages. This is not Donaghe's first book, nor should it be his last.
---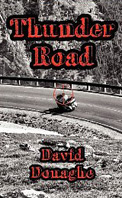 Title - Thunder Road
Author: David Donaghe
Publisher: Black Rose Writing (Aug. 29, 2011)
$18.99/paperback; $7.99/Kindle at amazon.com/pp.278
ISBN-10: 1612960928
ISBN-13: 978-1612960920

---