Public television revealed by an early contributor
September 18, 2012
by Jack L. Kennedy
They say you can't tell a book, or person, by the cover.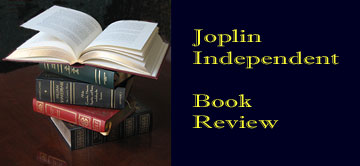 Backstage by Ron Hull (University of Nebraska Press), with Hull on the front cover in an interviewer's chair, is subtitled "Stories from My Life in Public Television." This, perhaps, pedantic premise might lead the casual book surveyor to think that he or she is due for a nostalgic, regional, ego-driven celebrity hunt. There are some of these elements, smartly presented. But do not be myopic. Prepare to be surprised by the book's scope and feeling, far-ranging geography and perspective.
Hull helped founder Jack McBride build a public television network in Lincoln, Nebraska that later produced great television shows for national viewing, such as "Anyone for Tennyson." They employed great directors like Marshall Jamison and innovative ideas.
The longtime assistant general manager of the network and a University of Nebraska-Lincoln faculty member, Hull still labors at the network as senior adviser. But the book is much broader and more enticing to any reader than simply a retelling of Hull's accomplishments as he sees them, an approach found in autobiographies. He has created a volume exhibiting boundless energy, moments of doubt, and sharpening perception.
Revealed are hope and idealism, faith, innovation, persistence, love of the land and a "sense of place," as Hull moves from being an adopted small-town South Dakota boy to South Vietnam, from New York City to Red Cloud, Nebraska, the home of author Mari Sandoz. Hull, who first helped foster the concept of educational television as a producer when stationed at Ft. Sill, Oklahoma, seized the chance to start a pioneering television network on the Plains, developing an intense love for the cultural and political riches of Nebraska. What he exhibits is a true, lasting love to this day, born from a relationship with Nebraska's writers, actors, and politicians on the regional or national stage. Not condescending but caring, Hull knows Nebraska and the Plains' personality and history and culture well.
The Vietnam chapter began in 1966 when the federal government asked him to go to Saigon to create a television network to unify a country which did not always have dependable electricity, let alone television. He survived military and political land mines through the war years expanding the Vietnam TV network amid growing pressure over his questioning whether the United States should be there at all.
Hull used a network of airplanes at times before transmission towers were available, and he saw non-military co-workers die around him. The boy from Rapid City, South Dakota, born but not forgotten among dance hall girls in the 1930s, developed sophistication, contacts, influence and national stature as he hopped from Vietnam to Lincoln, Nebraska to a Washington, D.C. spot in the Corporation for Public Broadcasting hierarchy.
Recalling the days of such shows as "Playhouse 90," that produced complete episodes in one viewing, he laments that "today on PBS there isn't a single ongoing American drama series on the air." At one amusing point, he and others at the Nebraska network fought the National Broadcasting Company over adoption by NBC of a new logo or symbol.
Hull's stories are numerous and diverse. They reveal a variety of tales about visionaries, politics here and abroad, personalities and progress. Along the way, they peel away some of the self-assured veneer that even folks with modest beginnings develop.
---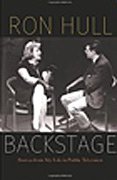 Title - Backstage: Stories from My Life in Public Television
Author: Ron Hull
Publisher: Bison Books (Oct. 1. 2012)
$15.56/paperback; $9.99/Kindle at amazon.com/pp.280; 2360 KB
ISBN-10: 080324066X
ISBN-13: 978-0803240667

---